The goldenrod is a perennial yellow flowering plant in the Family Asteraceae. There are many species of Goldenrod found in North America, Europe and other parts of the world. Contrary to the popular belief, Goldenrod does not cause hay fever and in fact, has medicinal uses.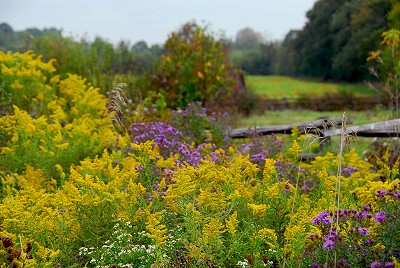 Identifying Goldenrod
Goldenrods can be recognized by their golden tips with hundreds of small capitula, but some species are spike-like and other have auxiliary racemes. The plants have slender stems which are usually hairless but Solidago canadensis shows hairs on the upper stem. These plants can grow to a length between 60 cm and 1.5 m. Their alternate leaves are linear to lanceolate and their margins are usually finely to sharply serrated.
Goldenrods are propagated by wind-disseminated seed or by underground rhizomes. They form patches that are actually vegetative clones of a single plant.
Uses
Goldenrod is a lovely choice for late summer gardening and attracts a lot of butterflies. While you may see goldenrods lining up roads and ditches in the countryside, it will also interest you to know that the plants are specially cultivated in some countries such as India where they are vastly used as fillers for flower arrangements and for extracting essential oils.
The variety Solidago virgaurea is a traditional kidney tonic. It has aquaretic, anti-inflammatory, antispasmodic and antiseptic action and seems to increase kidney output which makes it useful to counter inflammation and irritation of the kidneys when bacterial infection or stones are present. The aquaretic action is also useful in helping to dissolve kidney stones by diluting their components and prevent them from reoccurring.
State Flower
The goldenrod is the state flower of the U.S. states of Kentucky (adopted March 16, 1926) and Nebraska (adopted April 4, 1895). It also used to be the state flower of Alabama, being adopted as such on September 6, 1927, but was later rejected in favour of the camellia. Goldenrod was recently named the state wildflower for South Carolina.
Species of Goldenrod:
Solidago albopilosa E.L. Braun : Whitehair Goldenrod
Solidago altiplanities C.& J. Taylor : High Plains Goldenrod
Solidago arguta Ait. : Atlantic Goldenrod

Solidago arguta. var. arguta : Atlantic Goldenrod
Solidago arguta var. boottii (Hook.) Palmer & Steyermark : Boott's Goldenrod
Solidago arguta var. caroliniana Gray : Atlantic Goldenrod
Solidago arguta var. harrisii (Steele) Cronq. : Harris' Goldenrod
Solidago arguta var. neurolepis (Fern.) Steyermark : Atlantic Goldenrod

Solidago auriculata Shuttlw. ex Blake : Eared Goldenrod
Solidago bicolor L. : White Goldenrod
Solidago brachyphylla Chapman : Dixie Goldenrod
Solidago buckleyi Torr. & Gray : Buckley's Goldenrod (VU)
Solidago caesia L. : Wreath Goldenrod

Solidago caesia var. caesia : Wreath Goldenrod
Solidago caesia var. curtisii (Torr. & Gray) Wood : Mountain Decumbent Goldenrod

Solidago calcicola Fern. : Limestone Goldenrod
Solidago californica Nutt. : California Goldenrod
Solidago canadensis L. : Canada Goldenrod, Canadian Goldenrod

Solidago canadensis var. canadensis : Canada Goldenrod
Solidago canadensis var. gilvocanescens Rydb. : Shorthair Goldenrod
Solidago canadensis var. hargeri Fern. : Harger's Goldenrod
Solidago canadensis var. lepida (DC.) Cronq. : Canada Goldenrod
Solidago canadensis var. salebrosa (Piper) M.E. Jones : Salebrosa Goldenrod
Solidago canadensis var. scabra Torr. & Gray : Canada Goldenrod

Solidago cutleri Fern. : Cutler's alpine Goldenrod
Solidago deamii Fern. : Deam's Goldenrod
Solidago discoidea Ell. : Rayless Mock Goldenrod
Solidago fistulosa P. Mill. : Pinebarren Goldenrod
Solidago flaccidifolia Small : Mountain Goldenrod
Solidago flexicaulis L. : Zigzag Goldenrod
Solidago gattingeri Chapman : Gattinger's Goldenrod
Solidago gigantea Ait. : Giant Goldenrod
Solidago glomerata Michx. : Clustered Goldenrod
Solidago gracillima Torr. & Gray : Virginia Goldenrod
Solidago guiradonis Gray : Guirado Goldenrod
Solidago hispida Muhl. ex Willd. : Hairy Goldenrod

Solidago hispida var. arnoglossa Fern. : Hairy Goldenrod
Solidago hispida var. hispida : Hairy Goldenrod
Solidago hispida var. lanata (Hook.) Fern. : Hairy Goldenrod
Solidago hispida var. tonsa Fern. : Hairy Goldenrod

Solidago juliae Nesom : Julia's Goldenrod
Solidago juncea Ait. : Early Goldenrod
Solidago latissimifolia P. Mill. : Elliott's Goldenrod
Solidago leavenworthii Torr. & Gray : Leavenworth's Goldenrod
Solidago ludoviciana (Gray) Small : Louisiana Goldenrod
Solidago macrophylla Pursh : Largeleaf Goldenrod
Solidago missouriensis Nutt. : Missouri Goldenrod

Solidago missouriensis var. fasciculata Holz. : Missouri Goldenrod
Solidago missouriensis var. missouriensis : Missouri Goldenrod
Solidago missouriensis var. tenuissima (Woot. & Standl.) C.& J. Taylor : Missouri Goldenrod
Solidago missouriensis Nutt. var. tolmieana (Gray) Cronq. : Tolmies' Goldenrod

Solidago mollis Bartl. : Velvety Goldenrod

Solidago mollis var. angustata Shinners : Velvety Goldenrod
Solidago mollis var. mollis : Velvety Goldenrod

Solidago multiradiata Ait. : Rocky Mountain Goldenrod, Alpine Goldenrod

Solidago multiradiata var. arctica (DC.) Fern. : Arctic Goldenrod
Solidago multiradiata var. multiradiata : Rocky Mountain Goldenrod
Solidago multiradiata var. scopulorum Gray : Manyray Goldenrod

Solidago nana Nutt. : Baby Goldenrod
Solidago nemoralis Ait. : Gray Goldenrod, American Western Goldenrod

Solidago nemoralis var. longipetiolata (Mackenzie & Bush) Palmer & Steyermark : Gray Goldenrod
Solidago nemoralis var. nemoralis : Gray Goldenrod

Solidago odora Ait. : Anise-scented Goldenrod, Sweet Goldenrod

Solidago odora var. chapmanii (Gray) Cronq. : Chapman's Goldenrod
Solidago odora var. odora : Anise-scented Goldenrod

Solidago ouachitensis C.& J. Taylor : Ouachita Mountain Goldenrod
Solidago patula Muhl. ex Willd. : Roundleaf Goldenrod

Solidago patula var. patula : Roundleaf Goldenrod
Solidago patula var. strictula Torr. & Gray : Roundleaf Goldenrod

Solidago petiolaris Ait. : Downy Ragged Goldenrod

Solidago petiolaris var. angusta (Torr. & Gray) Gray : Downy Ragged Goldenrod
Solidago petiolaris var. petiolaris : Downy Ragged Goldenrod

Solidago pinetorum Small : Small's Goldenrod
Solidago plumosa Small : Plumed Goldenrod
Solidago porteri Small : Porter's Goldenrod
Solidago puberula Nutt. : Downy Goldenrod (VU)

Solidago puberula var. puberula : Downy Goldenrod
Solidago puberula var. pulverulenta (Nutt.) Chapman : Downy Goldenrod

Solidago pulchra Small : Carolina Goldenrod
Solidago radula Nutt. : Western Rough Goldenrod

Solidago radula var. laeta (Greene) Fern. : Western Rough Goldenrod
Solidago radula var. radula : Western Rough Goldenrod
Solidago radula var. stenolepis Fern. : Western Rough Goldenrod

Solidago roanensis Porter : Roan Mountain Goldenrod EN
Solidago rugosa P. Mill. : Wrinkleleaf Goldenrod, Rough-stemmed Goldenrod
Solidago rugosa subsp. aspera (Ait.) Cronq. : Wrinkleleaf Goldenrod
Solidago rugosa subsp. rugosa : Wrinkleleaf Goldenrod

 

Solidago rugosa subsp. rugosa var. rugosa : Wrinkleleaf Goldenrod
Solidago rugosa subsp. rugosa var. sphagnophila Graves : Wrinkleleaf Goldenrod
Solidago rugosa subsp. rugosa var. villosa (Pursh) Fern. : Wrinkleleaf Goldenrod

Solidago rupestris Raf. : Eock Goldenrod
Solidago sciaphila Steele : Shadowy Goldenrod
Solidago sempervirens L. : Seaside Goldenrod, Beach Goldenrod

Solidago sempervirens var. mexicana (L.) Fern. : Seaside Goldenrod
Solidago sempervirens var. sempervirens : Seaside Goldenrod

Solidago shortii Torr. & Gray : Short's Goldenrod EN
Solidago simplex Kunth : Mt. Albert Goldenrod
Solidago simplex subsp. randii (Porter) Ringius : Rand's Goldenrod

Solidago simplex subsp. randii var. gillmanii (Gray) Ringius : Rand's Goldenrod

Solidago simplex subsp. randii var. monticola (Porter) Ringius : Rand's Goldenrod
Solidago simplex subsp. randii var. ontarioensis (Ringius) Ringius : Ontario Goldenrod
Solidago simplex subsp. randii var. racemosa (Greene) Ringius : Rand's Goldenrod
Solidago simplex subsp. randii var. randii (Porter) Kartesz & Gandhi : Rand's Goldenrod

Solidago simplex subsp. simplex : Mt. Albert Goldenrod

Solidago simplex subsp. simplex var. nana (Gray) Ringius : Dwarf Goldenrod
Solidago simplex subsp. simplex var. simplex : Mt. Albert Goldenrod
Solidago simplex subsp. simplex var. spathulata (DC.) Cronq. : Mt. Albert Goldenrod

Solidago simulans Fern. : Fall Goldenrod
Solidago speciosa Nutt. : Showy Goldenrod

Solidago speciosa var. erecta (Pursh) MacM. : Showy Goldenrod
Solidago speciosa var. jejunifolia (Steele) Cronq. : Showy Goldenrod
Solidago speciosa var. pallida Porter :Showy Goldenrod
Solidago speciosa var. rigidiuscula Torr. & Gray : Showy Goldenrod
Solidago speciosa var. speciosa : Showy Goldenrod

Solidago spectabilis (D.C. Eat.) Gray : Nevada Goldenrod

Solidago spectabilis var. confinis (Gray) Cronq. : Nevada Goldenrod
Solidago spectabilis var. spectabilis : Nevada Goldenrod

Solidago sphacelata Raf. : Autumn Goldenrod
Solidago spithamaea M.A. Curtis : Blue Ridge Goldenrod
Solidago squarrosa Nutt. : Stout Goldenrod, Big Goldenrod
Solidago stricta Ait. : Wand Goldenrod
Solidago tortifolia Ell. : Twistleaf Goldenrod
Solidago tenuifolia : Slender Goldenrod
Solidago uliginosa Nutt. : Bog Goldenrod

Solidago uliginosa var. levipes (Fern.) Fern. : Bog Goldenrod
Solidago uliginosa var. linoides (Torr. & Gray) Fern. : Bog Goldenrod
Solidago uliginosa var. terrae-novae (Torr. & Gray) Fern. : Bog Goldenrod
Solidago uliginosa. var. uliginosa : Bog Goldenrod

Solidago ulmifolia Muhl. ex Willd. : Elmleaf Goldenrod

Solidago ulmifolia var. microphylla Gray : Elmleaf Goldenrod
Solidago ulmifolia var. palmeri Cronq. : Palmer's Goldenrod
Solidago ulmifolia var. ulmifolia : Elmleaf Goldenrod

Solidago velutina DC. : Threenerve Goldenrod
Solidago verna M.A. Curtis : Springflowering Goldenrod
Solidago virgaurea : Goldenrod, Aaron's Rod
Solidago wrightii Gray : Wright's Goldenrod

Solidago wrightii var. adenophora Blake : Wright's Goldenrod
Solidago wrightii var. wrightii : Wright's Goldenrod
Hybrids:
Solidago × asperula Desf. (S. rugosa × S. sempervirens)
Solidago × beaudryi Boivin (S. rugosa × S. uliginosa)
Solidago × erskinei Boivin (S. canadensis × S. sempervirens)
Solidago × ovata Friesner (S. sphacelata × S. ulmifolia)
Solidago × ulmicaesia Friesner (S. caesia × S. ulmifolia)
How to Grow: