Five Tips to Make Your Dream Home a Reality
Every buyer has some idea of their dream home. Perhaps it's a modern and minimalist structure that looks like it's freshly arrived from the future. Maybe it's a castle, or a thatched Devon cottage. Or maybe it's a terraced home with character, great neighbours and enough room for the entire family.
No matter which of these constitute a perfect home you'll need to plan, and research, and you'll perhaps need a little luck to have the finance and life situation to snap up your dream home. Here are five ways to make it happen: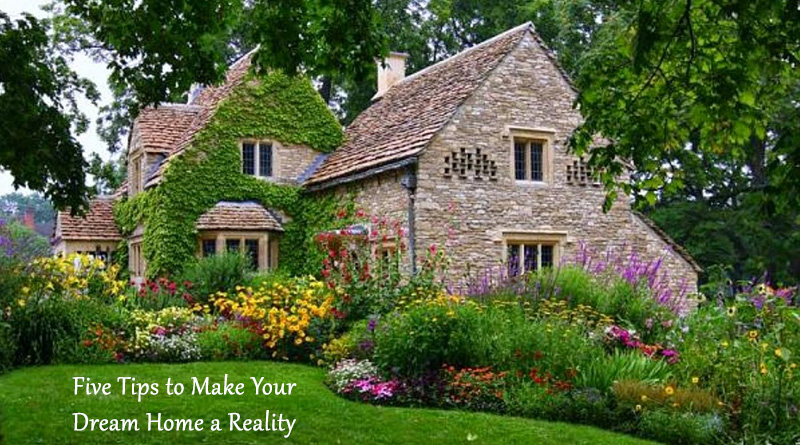 Save…
And save hard, because the more you can raise as a deposit the lower the LTV (loan to value) ratio will be, and the more likely you are to get that mortgage offer for the fantastic home. Giving yourself the option of looking at several homes, all within your price range, might be a wise move. Even if you manage to get a fabulous property cheaper than you thought and there's some deposit left over, this can be put towards decoration or new gadgets and upholstery for the home.
Alternatively look for help; schemes such as the Help to Buy Equity Loan, which means that the Government lends up to 20% of the total cost, have been enthusiastically supported across the country.
Buy a new build
You may feel frustrated and disheartened if you can't find your dream property, but don't despair. There's always another option and one frequently attractive to buyers is a new build. The advantage of buying new is exactly that – you'll be moving into a property that hasn't been lived in before, and everything will be in top-notch condition. There's no modernisation required, no outdated decor to overhaul, but a fresh, blank canvas for you to make your own.
Not only that, but some property developers will allow buyers to choose from a range of kitchen styles, carpets and other furnishings, and also add extra touches – like spotlights in an en-suite bathroom, for example. There's usually significant interest in new builds when they're marketed but it's possible to stay ahead of the competition by learning of upcoming developments as soon as they're underway – current new houses are listed on the WhatHouse website.
Know exactly what you want, and what's negotiable
You might want a ten-bedroomed mansion and 100 acres of land in Kensington, but without firing out £20m your dream will remain just that. Instead, try to be more realistic about the aspects of the property that would be absolutely essential and those that are just nice.
Presumably you want to stay in the property for a long period or forever, so there are a number of aspects to consider.
If you're single it will be tough, but by no means impossible. If you're buying as a couple, think about room numbers with respect to the family later expanding and then 20 or so years down the line shrinking again. Do you need bedrooms, or size, or both?  The more clarity of thought you possess, the more laser-like your searches will be and the sooner you'll be picking up the keys.
'Working' estate agents
Although expensive, the high street estate agent can still play a part in securing your dream home, as old fashioned as it may seem. They know the area and will know the properties that have just come onto the market before they've been officially listed. Therefore, getting to know agents as people, submitting a list of desirable or essential factors from your next potential home, and letting them inform you in the future if anything appropriate arises.
Once they do, find out as much as you can about why the owners are moving, and how popular they believe the property will be, before considering your next move.
Don't just think of the present
Here's something to consider; if what looks like a home that's 75% of the way to being perfect could actually reach the top spot with work in the future. Can you expand the property in any direction with extensions or a summer house?Can you renovate it or knock a wall out to make some rooms bigger? Can you buy adjacent land? Where are the nearest shops and amenities?
There might also be factors that are out of your control, such as new developments, roads and shopping centres that could be built nearby to make the value fluctuate in the future – do your research, which includes keeping abreast of news and local gossip. If you can see evidence of multiple building sites, then the area might be viewed as one with promise – and could be worth investment.