Fall Table Display – Fall Decorating Project/Idea
Welcome Fall into your home by creating a warm and inviting table display using seasonal flowers – fresh or artificial – and some goodies from your local craft store.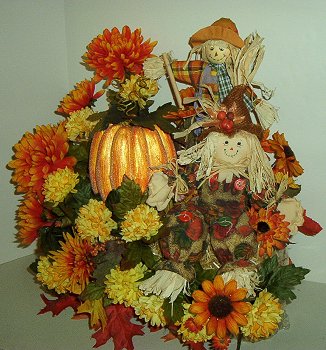 MATERIALS:
1 – 11" X 6" X 6" Bale of hay (from craft store)
1 – 12" standing scarecrow
1 – 14" shelf sitter scarecrow
1 – 6" plaster pumpkin
1 – Bush of orange mums
1 – Bush of yellow small mums
5 – 3" Sunflowers
1 – Garland of fall leaves
Glue Gun
HOW TO:
1. Use the bale of hay as a base for the display, in a horizontal position.
2. Glue the pumpkin on left side of the top of the bale of hay.
3. Glue the shelf sitter scarecrow on the right side of the top of the bale of hay beside the pumpkin.
4. Glue the standing scarecrow to the bale of hay just behind the sitting scarecrow.
5. Arrange the garland of fall leaves around the base of the bale of hay. Floral picks can be used to hold the garland to the bale of hay.
6. Cut all of the flower stems from the 2 bushes of mums, keeping the stems as long as possible.
7. Using the picture as a guide, arrange the flowers around and between the pumpkin and the scarecrows by poking stems into the bale of hay.
8. Now sit back and admire your masterpiece.
Designed by Sandy Kay