Fall Pumpkin Luminaria Centerpiece for Thanksgiving
Turn a small pumpkin into a luminaria and add fall leaves to make a natural centerpiece for your Thanksgiving table.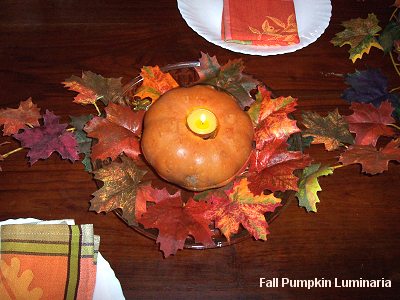 You will need:
1. One small pumpkin 2. Orange Tea light Candle 3. Fake fall leaves 4. Clear glass or other plate 5. Tools to scoop out pumpkin. 6. Fall leaves table runner (optional)
How to:
1. Make a round insertion at the top center of your pumpkin and scoop out enough flesh to place a tea light candle. 2. Place your table runner. 3. Place a clear glass or any other plate on the runner. 4. Place the pumpkin in the center of the plate. 5. Place the fall leaves in a circle on the plate. 6. Place the tea light into the hollow of the pumpkin. 7. When you are ready for guests light the candle.