Essential Small Appliances That Every Kitchen Should Have
Having a well-designed kitchen is not enough; you also need to have the best appliances to complement the design and ensure that the kitchen's functionality is met. Appliances do not add to the décor of your kitchen like flooring and lighting do but you cannot work without them. We have to mention here that some appliances can enhance the kitchen decor with sleek and modern designs.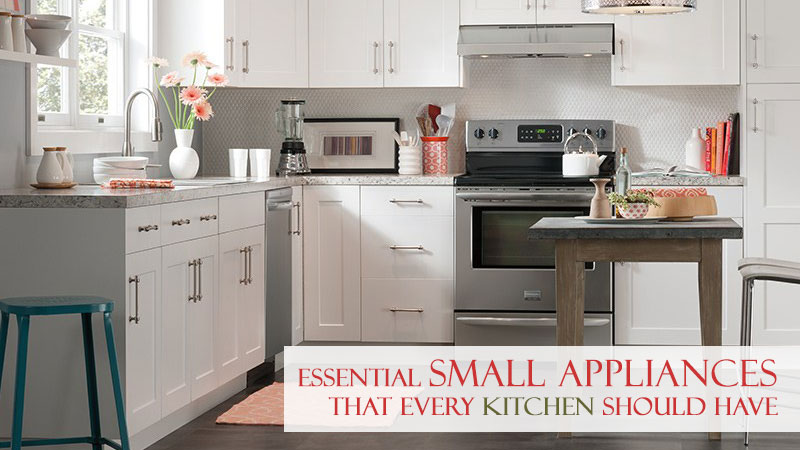 If you enjoy cooking, there is no limit to the number of appliances you can buy. To avoid buying appliances that do not fit in your kitchen layout properly, you should purchase them directly from the kitchen installation company. When buying kitchen appliances, you should look at the energy efficient rating, which ranges from A to G: A is the best rating possible while G is the worst.
Here are the appliances that you need in your kitchen:
A Microwave
This is an essential appliance in the modern kitchen. When you have a microwave, you will be able to expedite the cooking process and perform defrosting, heating, and frilling with a simple press of a button. There is a wide variety of microwaves in the industry, which are reasonably priced. If your family is huge, you need to invest in a big microwave that will fit bigger bowls.
A Coffee Maker
Are you a coffee lover who cannot get enough of the beverage? According to the owner of Home Grounds, most Americans drink coffee. Therefore, you need a machine that brews coffee for you, as you get ready for work. Coffee machines can be quite pricey depending on how fancy they are but you can find cheaper ones.
A Toaster Oven
Although this toaster takes up more space than other toasters, you need it. Consider it a must-do to look for the best toaster oven when designing your dream kitchen. You can use it to heat or toast thicker or stickier foods such as oversized bagels and waffles. A toaster oven also comes in handy when you want to cook small amounts of food such as mini pizzas and cookies.
Your toaster oven can also be your microwave if it has toast, broil, and temperature-adjustable settings. You need to buy baking sheets and broiler pans that will fit inside your toaster oven.
A Blender
This kitchen appliance is essential for making frozen drinks, smoothies, chopping soft ingredients, and mixing custards. When buying a blender, you should opt for one with a powerful motor and a strong jar made of heavy-duty polycarbonate or glass. Just make sure that the blender's jar is big enough to fit the recipes and drinks that you usually make.
If you host people often, you need a huge jar to avoid making everything in batches because that will be a waste of electricity. The type of blender you choose should match your needs and budget.
A Food Processor
You can use a food processor to blend, grate, chop, puree, and knead dough. If you use this appliance for everyday tasks, you will end up saving lots of time you can use to do other tasks around the house. However, you should know that a food processor is an expensive countertop appliance.
Of course, you can opt for cheaper versions but buying a high-end version means you will have a sturdier design, powerful motor, a larger bowl. The expensive types also come with emulsifying attachments and grating disks.
A Countertop Grill
A countertop grill is a handy appliance particularly when you want to make a quick dinner or lunch. You can use it to make burgers, chicken breasts, and steaks. When buying a countertop grill, you should look for features such as a floating hinge to allow even cooking of thicker foods without squeezing one side.