Disneyland travel tips for tots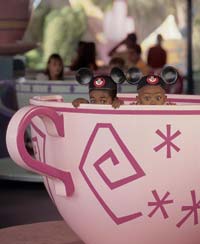 By Michele Sponagle
(NC)—It's never too early to introduce the magic of Disney to toddlers. Walt Disney World is renown worldwide for its family friendly environment.
You may want to consider leaving some gear at home. In-park stroller rental is available, starting at $10 U.S. per day. At Disney resorts, cribs can be reserved in advance.
Pace your day at the park well. Plan to arrive early, then take a break in the middle of the day for some quiet time or a nap back at the hotel. Arrive back at the party ready to ride and have fun.
Toddler pleasing attractions are plentiful. Some of the most popular, include: The Many Adventures of Winnie the Pooh, Mickey's PhilharMagic, Jim Henson's MuppetVision 3-D, Tarzan Rocks and Festival of the Lion King. For restless tykes, choose seats located near the back just in case you need to make a quick exit.
When parents need some quality alone time, don't forget Disney's in-room babysitting service and resort-based child care programs like Mouseketeer Clubhouse or The Neverland Club.
-News Canada