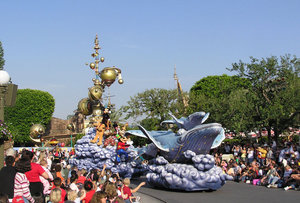 In addition to the attractions, Disneyland provides live entertainment throughout the park. Through the years, this has included: Daytime and nighttime parades that celebrate Disney films or seasonal holidays with characters, music, and large floats. Beginning May 2005, "Walt Disney's Parade of Dreams" is presented, celebrating several of the classic Disney stories including The Lion King, Alice in Wonderland, and Pinocchio.
Elaborate fireworks shows featuring Disney songs and an appearance by "Peter Pan" character Tinker Bell. Disneyland's Fantasy in the Sky fireworks premiered in the summer of 1956 and lasted through the summer of 1999. 2000 and beyond introduced fireworks presentations that have become more elaborate, featuring new pyrotechnics, launch locations, and storylines, such as the show Believe… There's Magic in the Stars and the 50th anniversary celebration fireworks presentation Remember… Dreams Come True.
Disneyland's Fantasmic! in Frontierland, a popular nighttime show with Mickey Mouse, special effects, floating barges, fountains, lasers, a pirate ship, a forty-five foot fire-breathing dragon, fireworks, and thirty-foot-tall "mist screens," upon which animated scenes are projected.
The Disneyland Band, which has been part of the park since its opening. They play the role of the Town Band on Main Street U.S.A. but also breakout into smaller groups like the Main Street Merchants Band, the Firehouse Sax Quartet and a variety of groups in New Orleans Square. The Disneyland Band is traditionally all male.
The Golden Horseshoe Saloon offers a live stage show with a frontier or old-west feel.
The Golden Horseshoe Revue—an old-west Vaudeville type of show starting Slue Foot (or Sluefoot) Sue and Pecos Bill—ran until the mid-1980s, when it was replaced by a similar show starring Lily Langtree (or Miss Lily) and Sam the Bartender. Most recently, Billy Hill and the Hillbillies have played their guitars and banjos in a bluegrass-and-comedy show.
The Dapper Dans barbershop quartet often sings on Main Street.
Rod Miller is a ragtime pianist who has played at Corner Cafe on Main Street since October 1969.
The Laughing Stock Co. in Frontierland provide small humorous skits with an old-west theme.
Disney characters greet visitors, talk with children, and pose for photos. Besides greeting visitors in regular places, they often participate in Disneyland parades.
Merlin appears in Fantasyland several times a day to help some lucky child pull a sword from an anvil and stone.