A Brightly Colored Focal Point • Decorative Pillows • Lamps • Displaying Accessories • Picture Frames • Bright Rugs • Throw Blankets • Color Scheme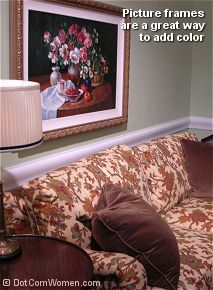 Decorative Picture Frames
Picture frames are another way to add color to a room. These accessories can be found at inexpensive prices in plastic, enamel or wood.
If you like to collect and display art prints, take care to find beautiful frames that enhance their value without over-shadowing the subject.
If you display a collection of family photos in the room, framing them in frames in either of the two focal colors, or even mixing the colors, can add brightness and a pleasant touch to your space. Select frames in different textures and sizes if you have few other accessories or choose matching frames if you want to avoid making the room appear "busy" because you already have other accessories.
Next > Bright Rugs