Decorating Your Home for Valentine's Day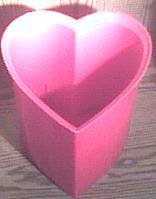 DCW Member Lilly Petronka shares with us her decorating tips for Valentine's Day:
Wouldn't a beautiful set of candle holders holding bright red candles for Valentines Day be a lovely addition to your dining room table?
A beautiful red and white table cloth and napkins with hearts would certainly cheer up the room for the upcoming holiday. If you can't find one, you can certainly purchase the material to make one with matching napkins. Wouldn't that be a lovely craft project? It's easy. You really don't even need a pattern. Just measure your table and add a few inches all the way around.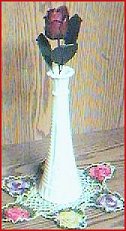 Sew a hem according to dimensions that you want for the table. Napkins are a breeze. Just decide how many you need and what size. Purchase the material and cut out squares according to what size you would like. Sew around the edges for hems are you're finished.
A lovely picture frame for Valentines Day could be a wonderful craft project holding a photo of you and the love of your life.
Red placemats adorned with hearts would be a lovely addition to add beneath your decorations on any table or curio.
Lighted Valentine hearts like the one I recently found at a charity shop with forty red lights with Luv You in the center is a beautiful addition to any wall. You can make a lighted heart by bending wire to form a heart shaped frame then adding red Christmas lights securing them with red yarn.
A single metal rose in a vase is a beautiful thought if you are allergic to flowers or even a single silk rose.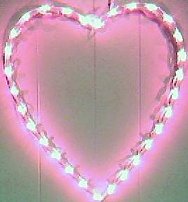 Have you ever seen or thought of a red trash can to add near your computer or office desk? I found one at a charity shop for .99
Red heart shaped pillows will certainly brighten up any sofa or daybed.
How about a huge heart wreath hanging from your front door? A heart shaped styrofoam or grapevine wreath adorned with a huge red ribbon with hanging hearts? Hearts made of material or wood and painted red.
A beautiful heart shaped door mat would be a beautiful addition for guests entering your home for a visit.
About the Author

Lilly Petronka enjoys finding inexpensive ways to decorate through shopping at charity shops, thrift shops, store sales and crafting.