Bathroom Floors Made Easy
The floor of your bathroom is important on several levels. The first is that the bathroom is a wet and steamy environment, making it essential that your floor is safe to walk on. The second is that it needs to look beautiful, to complement the rest of your bathroom.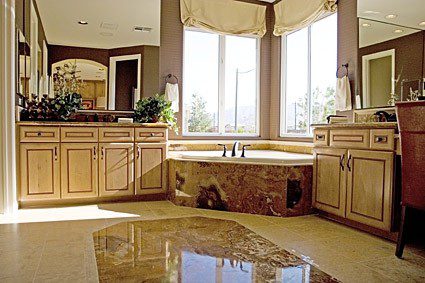 Wood, carpet and laminate aren't suitable for bathroom floors because it is such as damp environment. Wood will swell, warp and split in a damp environment, especially if the temperature and humidity changes regularly. Carpet is simply not suitable for a bathroom as it can rot, and is very difficult to clean properly.
The only option for your bathroom floor is a tile. But there are a whole plethora of different types of material and designs for you to choose from, so here's our short guide.
Stone
Stone floors are waterproof, durable and stylish. They can be made from limestone, marble, granite and slate, so you can choose from a whole range of colours from red to purples to golds, and textures including tumbled, sandblasted, etched and more.
However, stone needs regular cleaning and sealing as stone is often porous. You should also avoid polished tile for your floors because it can get very slippery.
Porcelain and Ceramic
Porcelain and ceramic tiles can look similar to stone or wood, but they aren't as expensive. They can have any patterns or colours that you could wish for too. They are hard wearing, especially if they are treated with a high grade glaze, as it will resist scratching. They can be used on the wall too, like these ones from The Yorkshire Tile Company, making them perfect for small bathrooms to make them appear larger. You can even install under-floor heating ceramic and porcelain too.
Ceramics and porcelain tiles aren't particularly easy to install, but for the seasoned DIY-er, it shouldn't be too difficult. You may have to check that the ceramic tile that you have chosen is suitable for use on floors.
Engineered Wood
As above, wood can't really be used for a bathroom floor. However, engineered wood can be. Constructed from parts of real wood, it has a layer of hardwood on the top, which prevents it from warping or splitting like regular 'real' wood. This can also be used for under-floor heating, though you may have to check with the manufacturer.
Vinyl
Vinyl is available in sheets or tiles, so you can tile large areas or very small ones. Vinyl is often cushioned, which makes it very comfortable to walk on, as it doesn't get as cold as stone or porcelain. It has a low cost and it's very easy to install. Vinyl can be very aesthetically pleasing too, despite its reputation.