Autumn Basket Centerpiece for Thanksgiving
Autumn Basket Centerpiece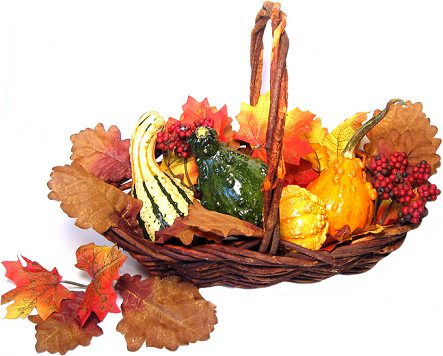 The plant material used to make this centerpiece is very easy to gather during this season. Colorful fall leaves, assorted gourds and berries and a wicker basket is all that you need to make this easy decoration. This centerpiece symbolizes abundance, and is, thus, perfect for any Thanksgiving dinner table.
You will need:
a wicker basket

fresh or artificial fall leaves

fresh or artificial gourds, assorted

small berries
How to:
Clean all the plant material and gourds by washing them under running water or wiping them with a damp cloth. This will remove the dust settled on them and make them look gleaming.
Arrange the fall leaves inside the basket, saving some for later use. Place the gourds on the leaves and add branches of small berries here and there. Arrange the remaining fall leaves on the sides tucking them a little under the gourds to hold them in their place.