Achieving the Perfect Contemporary Look for Your Home
Designing your very own home is more often than not a pleasure not only because it's a personal achievement to be able to buy a home, but also because you get to have it just exactly how you'd fancy. It's usually the happy kind of stress despite having to pore through tons of different designs and making sure that the budget you can afford will go a long way in terms of design and quality, and despite having to squeeze in your other endeavors like work or taking care of the family.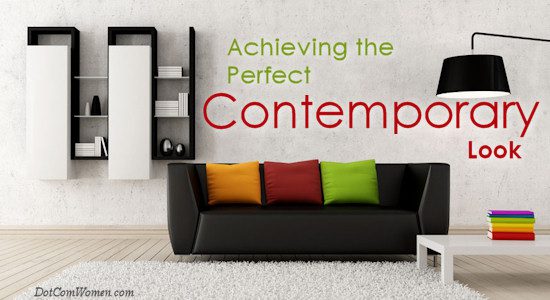 One of the most popular home designs that many homeowners like their home to have is contemporary. Often confused with modern, contemporary is actually characterized with rounded lines and soft qualities which is the exact opposite of modern-style's rigid lines and strong contrasts. Most of the elements associated in contemporary homes include those that came out during the onset of the 20th century and later.
If you are aiming for a full-on contemporary look in your home, the following tips might work well for you:
Go for natural fabrics when decorating with curtains or changing your upholstery.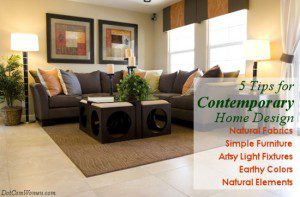 Silk, linen, wool, and cotton best contribute to the vibe achieved in contemporary design. They give a light, subtle texture that is inherent to contemporary and are therefore the best choices when it comes to fabrics. Neutral hues also look great but you can add a pinch of contrast by adding a loud rug or bold throw pillows.
Choose simpler furniture, preferably those without any embellishments or patterned designs.
The key in choosing contemporary furniture is to go for light – this means light-colored and lightly designed. Simply put, contemporary design limits patterns and is usually very conservative when it comes to colors and textures. When it comes to wooden tables or furniture, pick those with lighter colors and less visible grains like maple and birch.
Go artsy in picking out light accessories and fixtures.
The general rule in selecting contemporary lighting is to go for unusual shades that have a straight-edged design. Moreover, they are made usually out of stainless steel, chrome, or nickel. One perfect example for this would be the AJ floor lamp by Louis Poulsen.
Color schemes should be more earthy and neutral in hue.
Beige, cream, off-white, and brown are some of the basic colors used in contemporary home design. You should keep this in mind especially when buying accessories, furniture, or fixtures that will serve as a focal point in the room. Adding bursts of color using clocks, paintings, and rugs, however, will do no harm and may even turn out great.
Add natural elements to liven up the vibe.
Because of the soft qualities of contemporary design, the outcome can turn out a bit bland for some. To perk up the feel of the room, add fresh flowers or plants to incorporate life and color. You may also want to add more windows to allow more natural lighting to get through.
Cedric Loiselle is a highly talented writer who enjoys imparting useful information about home improvement to his readers. For lighting options, he highly recommends interior-deluxe.com.