A bathroom to hide away in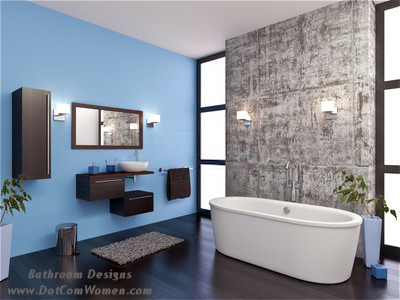 At the end of the day what do we want most? You got it. A nice long relaxing bath. Do we get it? No, and why not? Because we have to climb over a mountain of clothes and have to share the bath with a rubber duck. Well no more. It is now time to make the bathroom your own little hide away where you can relax and enjoy the peace and quite. Here are some great tips to help you do just that.
Create the right lighting
The right lighting will make all the difference creating warmth and a calming atmosphere. You could install a dimmer switch so you can change the settings to the right light effect of your mood.
For a more softer effect candles will do the trick. Surround the bath with tea-lights. Invest in an oil burner, light incense sticks and fill the air with soothing scents.
Dive in
Fill the bath with some scented bubble bath and let yourself get lost in the bubbles. For aching muscles and head try Radox herbal bath salts. Fill your bath with fresh rose petals and get lost in your thoughts of the glamour world.
Fill the room
Surround yourself with all your favourite things photos, pictures etc.. Place photos of your favourite destinations, you and your other half cuddling on a day out or just some nice scenic photos. Hang some of your favourite artist's work on the wall above the bath. Bring in the fish tank and let the fish calm your mind as you watch them swimming.
Bring in:
The radio and listen to your favourite relaxing music. A romantic love story and dive into the world of the heroine and her knight in shining armour. Most importantly a glass of wine and a tray of chocolates and a slave to feed you them. (Yeh right we can dream can't we).
The beauty treatment
This is the perfect time to treat your skin to an all over body pampering. Slap on a face mask, place cucumbers or cold tea bags over your eyes, put on a tape lie back and let your skin soak it up. Exfoliate your skin while you are in the bath and when you get out rub in an all over body moisturizer, dry off and go and relax in front of the TV with a romantic VCD.