6 Tips for Antique Picking
Finding Hidden Treasures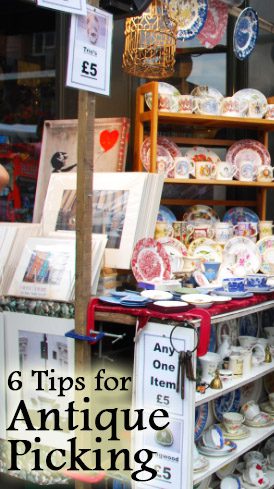 Antique markets and flea markets can be great places to find unique or extraordinary objects to decorate your home. Wandering through the aisles and stalls, you might find that perfect old lamp, an eye-catching painting, or even a kitschy ashtray that would look perfect in a corner of a room. But if you want to score the best buys and make the most of a trip to an antique market, you've got to have a plan of action and head out prepared.
Named "America's Best Interior Designer" by CNN and Time Magazine, Sheila Bridges is the founder of Sheila Bridges Design Inc., a company committed to creating thought-provoking and comfortable high-end residential spaces. Her television show, Sheila Bridges Designer Living, airs on Fine Living. Here she offers expert strategies and tips for antique picking success:
Go early.
First and foremost, you should plan to show up early. As Bridges says, "the early bird gets the antique Chinese birdcage." If you're not prepared to be at the market when the doors open, you'll likely lose the best treasures to other buyers.
Wear good shoes.
Bridges' next tip: wear comfortable shoes. If you're a dedicated treasure hunter, you'll likely be on your feet for hours.
Bring a measuring tape.
If you fall in love with a piece of furniture, you'll have to know if it will fit in the appropriate spot in your home, or even if you can get it through your door. Know your home's measurements, and bring a measuring tape along to the market.
Bring a big bag.
Take along an oversized bag to carry any fragile items you might buy. It's also a good idea to have something protective to wrap things in, like bubble wrap, in case the seller doesn't.
Bring cash.
It's very important to bring cash when you're shopping for antiques. It will make transactions go faster, and will give you an edge when you're haggling. If you offer your very last ten-dollar bill for a vase that's marked $15, you just might get it.
See an item's potential.
When you're trying to find great decorative pieces without blowing your design budget, its necessary to see the hidden potential in an object. Look for less-than-perfect items that can be cleaned up with a little soap and water, spruced up with a fresh coat of paint, or given a whole new life with some bright new fabric.