5 Upgrades to Improve Your Outdoor Living Space
Your outdoor living space is pretty important. This is the place that you need to be able to rely on when it comes to looking for somewhere to relax, enjoy the weather and entertain friends. Yet it takes time, money and effort to create the ideal outdoor space – starting with a need to keep your garden itself looking neat and tidy. If you're still not satisfied with yours after that, maybe it's time for an upgrade?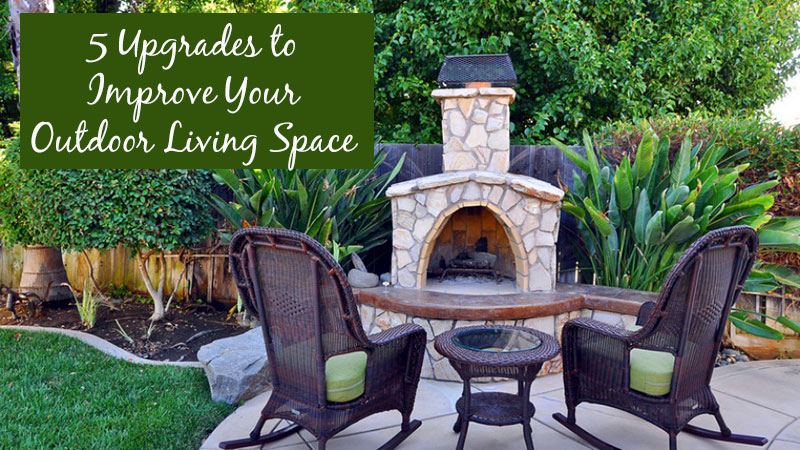 Here are five things you can do right away to take your outdoor space on to another level:
Awning
Sitting out in the sunshine is the very thing you'll want most from your garden. But it's not a great idea to just pop yourself down under the sun's rays and burn. At the height of summer, having some shade is vital when it comes to having a comfortable and relaxing outdoor space. That's where a quality awning comes in. These extend from the side of your home and give you a covered space to lounge in – or maybe to sit and eat under. Motorized awnings make all this happen with the touch of a button.
Pool
An outdoor pool is the ultimate garden feature – a showpiece that you can enjoy and that will be the envy of your friends. Yet you need to think about how to integrate a pool into our outdoor space. A pool deck allows you to embrace a pool and create a stylish, low maintenance space around it to relax in. It's a great upgrade whether you have an existing pool to splash in or not.
Lighting
What happens when the sun goes down? Do you have to reluctantly peel yourself off a lounger and head back indoors? That doesn't need to be the case if you invest in some quality outdoor lighting. Solar lights in your border can be an attractive feature while lights for the decking or patio space can allow you to relax well into the night. Experiment with different styles and colors to find the best look for your space.
Kitchen
You might be used to wheeling out a BBQ to serve up some tasty food, but how about an upgrade on this? Fully fledged outdoor kitchens can be installed, containing everything from ovens to fridges to offer the ultimate outdoor dining experience. This will mean that you can entertain your guests properly when you host parties in the summer.
Fire pit
When indoors, nothing is quite as relaxing as a cozy night by the fireplace. So, why not transplant this feeling outdoors by investing in a fire pit? Installing one of these in your outdoor space creates the perfect focal point for you to gather around long into the night, with warmth, light and the cozy atmosphere that the flickering flames create.
With a fire pit, pool deck, outdoor kitchen, awning and lighting, you're well set to have a dreamy outdoor living space.