5 Essential Features to Look for In An Apartment
When searching for an apartment, many people tend to overlook the odd, but useful features of a potential place to call home. This doesn't imply you should avoid other basics, such as location, space, windows' size, and type of flooring in your new home. Every single aspect of a home matters when choosing an apartment.
This post is going to share some essential features to consider during your hunt for a new apartment.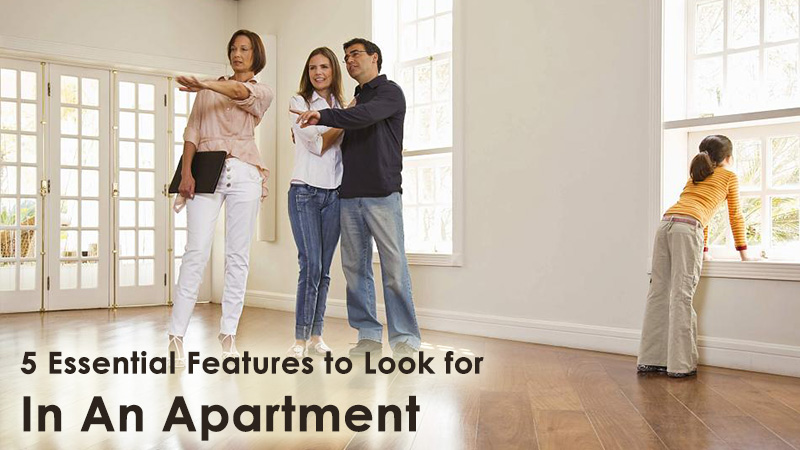 1. Network Connectivity
If you're a regular internet user, the last thing you want is being tolerant of an unreliable broadband connection. In some areas, cellphone signal is usually weak, making it hard for you to enjoy a good phone call with your friends and family. In some cases, you'll notice these problems when it's too late.
The best way to ensure strong and stable connectivity is by bringing your mobile devices with you during the tour. Alternatively, you can inquire from the neighbors about the network connectivity in that particular area. If there is a need, you'll have to switch service providers.
2. Water Pressure
It's no surprise to find a well-furnished or high-end property with inadequate water pressure. This can be quite troubling when taking your daily morning shower before heading to work. You can avoid this nightmare by testing the unit's water pressure on the day of your apartment tour.
You will the majority of apartments are equipped with pressure regulators and water flow restrictors. Be sure to ask your agent if these devices are installed. You can either remove or configure them to get your ideal water pressure. Otherwise, if water pressure is an issue, you'll have to rethink your choice.
3. The Amenities
The thing that makes apartments more attractive than typical houses are their amenities. They come packed with various features, such as lounge areas, fitness centers, luxury pools, laundry rooms, gourmet kitchen, and relaxation courtyards. These common amenities are great for hosting your guests or weekend relaxation.
So, if your lifestyle demands these amenities, then you've got every reason to consider apartments that offer them. Finding an apartment that provides an exclusive amenity package will make it easier for you to settle into your new home.
4. Curb Appeal
There are those units that have no designated locations for garbage bins and mail. As such, you are likely to find the bins in the entranceway and along the curbs near the apartment. You'll also find mail piled in the doorway, especially when you're away for weeks. Some will just leave your packages lying around in the entryway or lobby until you return.
Ensure the apartment has a storage location or holding area for packages and mail. It will be more convenient if they have a package locker, which you should expect to come at a monthly fee.
5. Layout
If you have a decor theme in mind for your new apartment, then the layout should support it. Don't just look at the square footage of rooms in the apartment. Instead, focus on the position of the doors and windows and the space between them.
Pay attention to the layout of the living room and bedroom to ensure they all meet your requirements. For example, check the closeness of the closet to the bedroom windows and doors to determine the ideal position for your bed. Also, bear in mind that the placement of windows in all the rooms will affect your decoration and furniture arrangement.
Get the Right Apartment
If you are searching for an apartment in another city or state, it's important to note that every detail matters. Take the time to study more about the neighborhood to determine the locations of nearby gyms, coffee shops, bars, hotels, parks, and grocers. Whether you're looking for a 1- or 2-bedroom apartment, taking these features into account is vital in settling seamlessly into your new home.