4 Ways to Update Your Home Before Having a Baby
With a new baby on the way, your to-do list is seemingly endless. From decorating the nursery and creating a baby registry to researching all of the best baby gear, there are a ton of details to sort out. However, you can check making your home more baby-friendly off your list by making the following updates to your home before welcoming your new bundle of joy: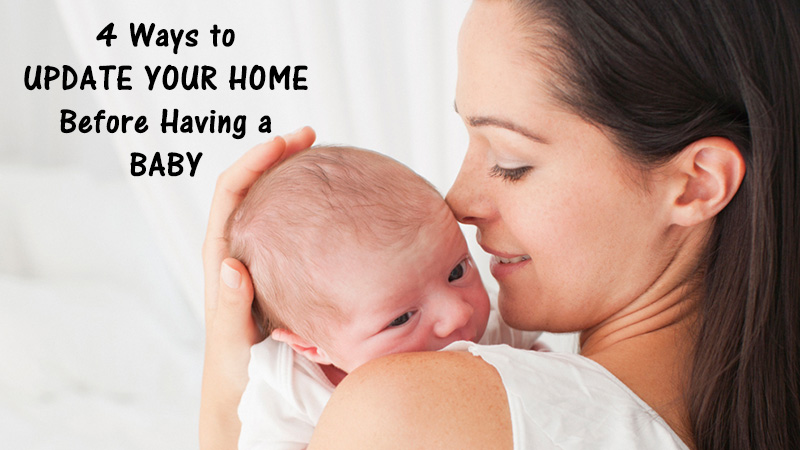 1. Refresh the Flooring
Little ones spend a lot of time on the floor in their first formative years, so now is as good a time as any to redo your flooring. Of course, carpeting is ideal for little ones, as it provides a more forgiving surface for crawling and the many falls that precede learning how to walk. With that in mind, choose a low pile or Berber style that won't trap a ton of dirt and debris. A multicolored, neutral carpet is a good option that won't show spills and stains easily.
But if you don't like the look of carpet, be sure to top your wood, concrete or tile flooring with an area rug in the main living space. Additionally, you'll want to make your child's play area a little more plush to ease falls with foam tiles.
And, when upgrading to new wood flooring, opt for a lighter-colored wood that will wear more gracefully than dark wood. While dark wood flooring looks great, nicks, scratches and crumbs will all show easily on these surfaces. In the end, when choosing hardwood flooring, opt for engineered wood for a low-maintenance, hardwearing option.
2. Update the Kitchen
Between preparing family meals and keeping yourself fueled for the hectic schedule that comes with having a baby, you'll be spending even more time in your kitchen. But there's no better time to tackle that kitchen renovation you've been considering than before the baby arrives.
You may already have a Pinterest board full of details for your dream kitchen, but there are some important considerations you should make now that you'll have a baby in the house. To start, make sure every surface choice is easy to clean; after all, you'll soon be putting it to the test with more spills and scuffs than you could imagine.
So skip that fancy white Carrera marble countertop in favor of a more low-maintenance quartz or Corian. Or, opt for an easy-to-clean ceramic tile that can stand up to the many messes that will end up on the floor as you begin introducing solid foods to your little one when they reach 6 months old.
While a kitchen remodel may seem like a lot of work — and possibly a stretch if you're on a tight budget — the cost of remodeling this space can vary widely. Still, there are plenty of ways in which you can engineer value into your remodel to make it more affordable; after all, a remodeled kitchen can also boost the overall value of your home.
3. Add Some Much-Needed Baby-Proofing Features
If your home doesn't have an open floor plan — and the kitchen is closed off from the main living spaces — now is an ideal time to knock out a few walls to open things up. This way, you'll be able to keep an eye on your baby while he or she is in a swing or play area in the next room as you prep dinner or unpack the groceries. But, remember safety is the name of the game.
In that vein, you should incorporate babyproofing features into any portion of your remodel in order to save yourself time and worries as your baby begins to crawl and explore. For example, all cabinets within reach should have child-proof locks, and you should update all electrical outlets near the floor with sliding covers to keep little fingers out of harm's way.
4. Upgrade Window Coverings
Long cords from window blinds can pose a major strangulation risk, so make sure to update all of your window coverings to child-friendly cordless blinds. This way, you'll not only provide more safety for your little one, but also prevent any falls, tripping or other inadvertent actions. Of course, comfort should also be a major priority, so opt for blackout shades in your bedroom and in the nursery to help everyone get as much sleep as possible.
Do Your Future Self a Favor
While many of these home improvement projects could wait until your baby is more mobile, at around 6 months old, you'll really be doing yourself a favor now by sorting out all of these details before your new bundle of joy arrives. If you think life is hectic now, just wait — it's about to get a whole lot busier.