4 Ways Bamboo Can Transform Your Bathroom
Bamboo is a renewable resource and a versatile wood replacement. Because it is one of the fastest-growing plants in the world, bamboo is a more eco-friendly choice than lumber such as oak and pine. Choices such as those result in the destruction of millions of trees annually. Bamboo offers an alternative and can be used for almost all of the same products. The renewable grass is also used to make durable, breathable, soft clothing as well as paper products like disposable towels and baby wipes.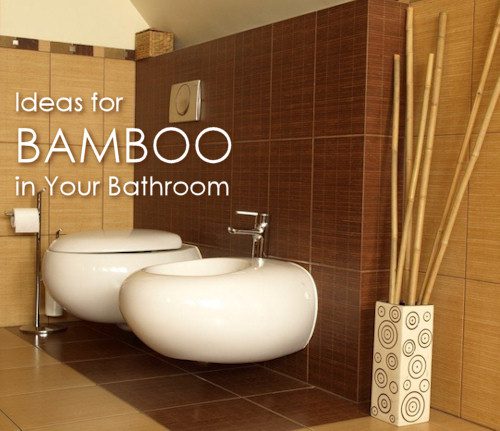 Bamboo also has multiple uses as a natural resource. For example, its leaves and shoots can be harvested as a nutritious food for livestock, so none of the plant goes to waste when processed. A green choice for your bathroom floors and surfaces, bamboo can transform your current design in four key ways.
Bamboo Helps Create the Ultimate "Green" Bathroom
Bamboo's beauty and functionality is helping it skyrocket in popularity as an option for bathroom surfaces. Bamboo has many qualities that help cut down on waste and preserve the environment:
It's fast-growing and self-renewing
It does not require heavy processing with machines and chemicals
It helps reduce worldwide deforestation
It produces more oxygen per square foot than most trees
It requires less water to grow than most trees
It does not require the use of toxic pesticides while growing
A Fabulous Flooring Choice
As flooring, bamboo offers a variety of options. Bamboo flooring is available in many hues ranging from dark brown to light tan, and even tinted with blues, greens and warm reds. Among the benefits of bamboo as a flooring material are the following:
It's cheaper than wood-based options
It's for high-traffic areas, due to its natural strength and durability
It's simple to self-install than wood floorings, saving labor costs
It canbe covered with a matte or gloss-style paint to accent any décor theme
It can be stained to resemble most varieties of wood
It looks beautiful in its natural state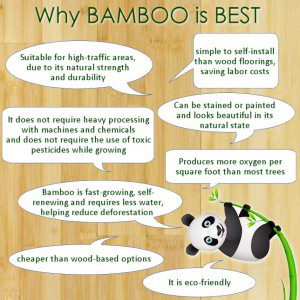 Bamboo Makes for Magnificent Cabinets and Vanities
One of nature's most elegant and versatile building materials, bamboo is ideal for creating a customized bathroom vanity. Often the visual focal point of a bathroom, your vanity can be beautifully framed in bamboo alongside bamboo cabinetry. Bamboo's smooth texture looks beautiful when reflecting both artificial and natural light, and can be customized to your bathroom's color scheme. You can even use bamboo-accented light fixtures to surround your vanity.
If you prefer a more ornate aesthetic, you can find bamboo that has been professionally carved or engraved. Bamboo makes an ideal artistic medium. You can find figurines carved of solid bamboo to display in your bathroom as well as practical items made from bamboo such as candelabra and boxes.
Bamboo Can Accent Your Design
Bamboo improves your options to create a cohesive look in your bathroom due to its many uses. Unlike other bathroom surfaces such as ceramic and glass tile, bamboo can be used extensively for other items like artwork and accents. You can find towel holders, toothbrush holders and shelving made of bamboo. You can even find shower curtain rings and toilet seat covers made from bamboo.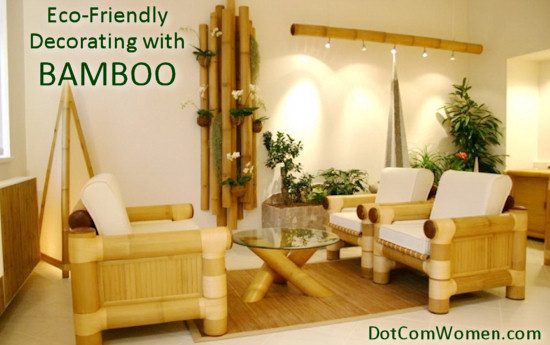 If you choose bamboo for your bathroom flooring, your options to integrate it into your design are extensive. Here are some ways you can do so:
Think beyond the bathroom and start using bamboo furniture in the rest of your house
Use bamboo to frame photos and paintings for use in your bathroom and other areas
Get a bamboo stepping stool for children to use in your bathroom
Decorate a children's bathroom with bamboo and look for bamboo toys
Continue the bamboo theme by using hairbrushes and toothbrushes with bamboo handles
About the Author: Daniella Gerard is an interior designer with a background in carpentry. She writes extensively about new and sustainable materials that can be used in bathroom and kitchen remodels.