3 Tips for a More Efficient Home
Home is where the heart is. So spread some love around and make it a better living space. Cut down on wasted time and energy by creating systems and practices that keep your home life running smoothly. Learn a few ideas for maintaining a more efficient abode with these three tips.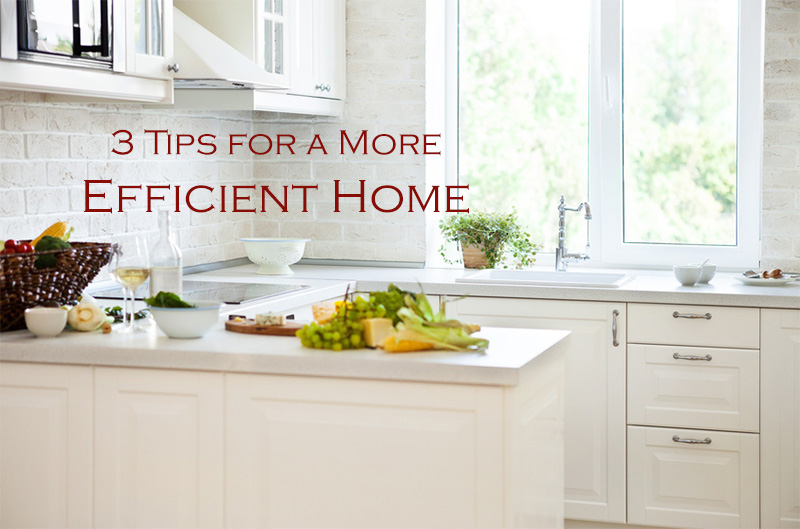 Organize Your Kitchen
The center hub of most homes is the kitchen. This is where family meals are made and daily plans are discussed. It's also where clutter can pile up quickly. By organizing your kitchen, you can cook and clean up afterward more efficiently. Purge items that you don't need. Do you have multiple spatulas and other cooking utensils? What about plastic containers without lids? Donate or trash duplicate and broken items. Do the same for gadgets that you have not used in several years.
Remove random items from your counter top. Utilize space in your cabinets and pantry to store rarely used dishes like large serving trays and punch bowls. Leave kitchen counters clutter-free for placing groceries and food preparation. Sort like items into groups for easy retrieval. Hang cutting boards or frequently used pans on wall hooks. Being able to access things quickly will make your kitchen tasks run smoother.
Set Up a Charging Station
How many mobile devices do you own? Add the number that your family members own and it's quite significant. Statistics show that 95 percent of Americans have some version of a cellphone and 77 percent have a smartphone. Now, think about the number of chargers, adapters, and other accessories that accompany your mobile devices. Is it in the double digits?
An efficient way to keep all of those electronic components accessible is to create a charging station. Try to stay away from the kitchen area if possible. A dedicated space in your living room or foyer would be ideal. You can buy a ready-made docking platform with multiple two- and three-prong outlets, USB ports, and other connectors. Or you can create one yourself with a multi-outlet power strip and a desk organizer. It's a perfect solution for accommodating the whole family.
Overall Home Efficiency
Whether you work from home or not, you can benefit from an area to pay bills and store correspondence. A desk in a guest bedroom or your dining room would be sufficient. Keep it organized with small storage bins and vertical dividers. The dollar store has inexpensive pieces to store postage stamps, pens, pencils, and paper clips. You can use a large three-ring binder to house school calendars, newsletters, bank statements, and more.
Your quality of life also extends to other types of home efficiency such as the air you breathe. Do you know if your indoor air quality is good, fair, or poor? For your HVAC system to be at its best, there must not be any leaks in the ducts. That would decrease the energy efficiency in your home and the air quality. Don't try to repair your HVAC system yourself; contact a reputable service for maintenance and repair.
Boost productivity in your home by following these steps. Find ways to get your family involved, so you can maximize efficiency on a daily basis.