Where to Find the Best iPhone Cover Deals Online on Christmas
Are you ready for Christmas? It's early December, and that means three things – eggnog, Advent, and shopping. As the 24th and 25th zooms in closer with every hour, retailers and consumers alike are scrambling to get their offers – selling and buying in a frenzy that would leave any unprepared shopper or business in the dust.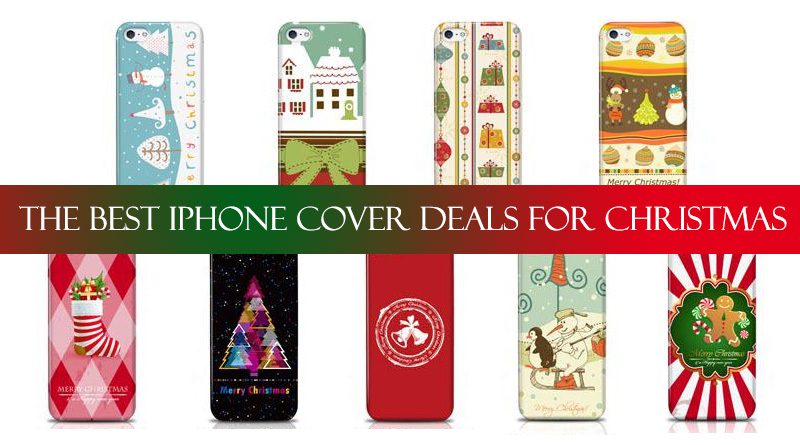 So don't go unprepared! If you're still looking for a Christmas gift, you may be a little late to the party – but that doesn't mean you have to be empty-handed. A perfect gift for friends and co-workers doesn't have to be amazingly expensive or difficult to get – something simple and thoughtful will do the trick. A particularly hot gift nowadays is a simple iPhone cover. It is also my favorite stocking stuffer idea for grown ups!
While people are swapping out and upgrading their Apple phones with each new iteration, the popularity of iPhone covers is surging. The stats say it all – since the phone's emergence in late 2007, the phone went from selling roughly 270,000 units in the third quarter of '07, to selling nearly 75 million phones worldwide in the first quarter of 2015 alone, according to the statistics website Statista. According to CNet, there are nearly 100 million iPhone users currently in the United States, making quite a huge market for just a single brand.
As such, there's an equally huge market for iPhone covers, and a massive variety to choose from. From unicolor cases, to cases built to withstand falls from several feet in height, to cases made out of novelty materials like bamboo and steel – there's a case for everybody out there. But the question is – where does everybody get their cases? If you're looking for the best place to get your hands on some sweet iOS deals, you may not have to look very far.
First, Hit the High Street
Although it isn't online, your first option should be to hit the high street – tech shops tend to have a decent supply of iPhone covers, so you may be able to find what you're looking for there. Usually, however, these tend to be official products approved by Apple – and not only are these criminally expensive, but they often tend to be very selective in design and creativity.
While it's one option, it isn't your best option. It is, however, a good place for reconnaissance. Although heavily overpriced in many regards, physical tech shops still carry one distinctive advantage – you can see the product for yourself. You can get a feel for the items and the way they'll look in your hand. If you do find an iPhone cover you like, it's still wiser to head online to search for a better deal – especially with the number of Holiday sales going on.
Online Means No Line
The Internet essentially sells everything nowadays – from socks and lettuce to iPhone covers, you don't have to look far to find the best deals online. Price comparison sites are everywhere, informing you of the smartest choices in online shopping – and entire websites and businesses revolve around letting people create and customize their own items. If you're looking for iPhone cover deals online, retailers like DailySale seem like a viable option provided their deals work best for your requirement.
Giant retailers like Amazon, Alibaba and Rakuten are a clear choice, but they may not be the best choice. Smaller local online retailers tend to undercut the larger competition to become more attractive in the eyes of customers – use that to your advantage to find a better deal online.
Local retailers also offer another amazing bonus – free shipping. If you can find the right site for your region, you won't have to worry about shipping costs at a specific price. Aliexpress, on the other hand, is retail friendly and will give you countless options for phone covers. However, be sure to order well in advance since overseas shopping can take anywhere from  10 to 60 days!
Some websites dedicate themselves to only offering items on sale – if you're on a budget, or you're looking to get the best deal available, then websites like that are your best bet. On Christmas, even the most expensive items get massive reductions in pricing – discounts ranging from 50 percent to 80 percent aren't uncommon, even for things like smartphones, watches, microphones, tablets and other electronic accessories.
However, websites like that are often on a time-based sale – meaning, your chance of getting the best deal doesn't just rely on stocks, but on the clock as well. Some items go on sale for a few days, some for a day, and others yet for just a few hours.
Lastly, Check the Classifieds
If you're out of luck on official retailers, then your last resort is to check the local classifieds. Second-hand might not be the ideal option, but if the one cover that would fit best for your friend is simply sold-out, you may be able to find it lurking around on websites like Craigslist.
Wherever and however you decide to do your Christmas shopping online, try to keep the pace up as much as possible – as Christmas draws nearer, more shoppers are beginning to order gifts in a panic, and soon, delivery options will be exhausted, making a pre-Christmas arrival on many items close to impossible.