Safety Tips For Choosing Your Halloween Costume
So you've done everything you need to do in order to prepare for Halloween. You've got all of the purple and orange lights up on your house. You've bought enough candy to satisfy an army of sugar-starved trick-or-treaters. And you've even run a background check with Instant Checkmate on your neighbors just to make sure they aren't hiding anything before you unleash your kids on the neighborhood.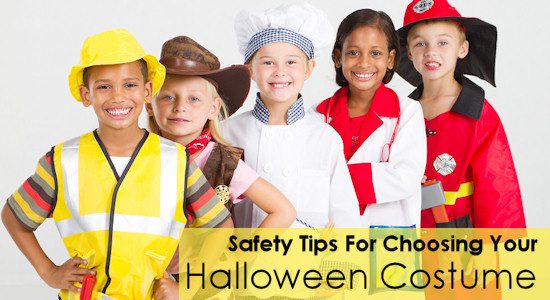 Is there anything you're forgetting?
Oh, right. A costume for your children. If you're scrambling at the last second to pick up a Halloween get up for your little ones, style shouldn't be your only concern. You should also pay some attention to factors that might mean the difference between a fun Halloween night and spending October 31st in the emergency room.
Here's what to look for when choosing a costume for Halloween.
1) Bright Colors
Since the best parts of Halloween happen at night, when roads are only illuminated by street lights and glow bracelets, visibility should be your chief concern. Black may be the color of Halloween, but the way it renders your kids invisible to motorists makes it a poor choice for a Halloween costume. You should ideally choose a costume that features a lot of warm, bright colors like white, red, and yellow.
2) Comfortable Material
Halloween should be about disregarding your dentist's warnings about too much candy and good-natured scares, not scratching at your Halloween costume because it makes you feel itchy all over.  Before you commit to a costume, have your kid try it on first to make sure they feel comfortable in it. Since the nylon and polyester of store-bought Halloween costumes are more prone to catching on fire than everyday street clothing, you should look for the costumes that are specifically labelled "fire resistant" or "flame retardant." Of course, you could always do your own fireproofing.
3) Good Fit
Vampires are meant to be intimidating, and there is nothing intimidating about tripping every ten feet because your costume is too big for you. The lack of mobility can cause some safety problems too, so ensure that the Halloween night costume fits snugly, without being too tight, and doesn't have a lot of loose fabric.
4) High Visibility Masks
Since masks limit peripheral vision, ideally you should opt for a costume that doesn't require them. However, if your child's costume would be absolutely incomplete without a mask, only choose a mask that has wide enough eye slits to not impede vision. If necessary, break out the kitchen shears to widen the eye holes before your kids go off into the night with only partial visibility.
5) Smart Accessories
Does your child's costume need something extra to really make it complete? Accessories (like swords) should be made of a soft rubber or plastic material, not metal. You don't want someone to get injured because a pretend duel got a little too real.
Stay Safe And Have Fun
Your child only gets so many Halloweens before they will start thinking of trick-or-treating as silly and childish. Have lots of fun and enjoy the simple pleasure of a child's Halloween while you can. And also be sure to get plenty of pictures you can use to embarrass them when they're older.
About the Author
Peter Nausbaum is a blogger from Cheyenne, Wyoming. He blogs about parenting, safety, and holiday fun.