Last-Minute Ideas for a Perfect Valentine's Day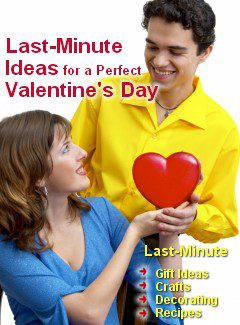 Valentine's Day is almost here and if you are a typical 'Dot Com Woman' – trying to fit everything else in your life with your 'puter time', chances are that you have still not decided what to buy/make for your man, planned a menu for the D-Day, haven't had time to add some romantic touches to your decor and let alone planned something for Valentine's Day. All you really know is that you want the day to be special. You are even willing to give up your 'puter time' for that!
Help is here – we have all the 'last-minute' advice you need to make this Valentine's Day a special one. Here you go!
Last Minute Valentine's Day Gift Ideas for Men
Last-minute Homemade Gift Ideas for Men
Last-Minute 'Quick and Easy' Recipe Ideas for Valentine's Day
Last-Minute Decorating Ideas for Valentine's Day
Getting The Perfect Something for the Man Who Has Everything