How to Help Babies and Toddlers Enjoy Halloween
Babies and toddlers with undoubtedly find Halloween confusing and a little scary to begin with. And who can blame them, with all the faces they're familiar with suddenly hidden behind masks, and scary monsters from movies and books walking around on the street.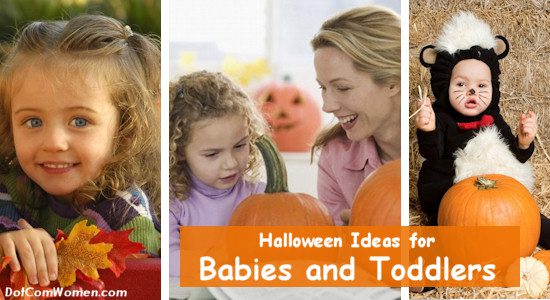 But by involving them in age appropriate games and activities, they can grow to love Halloween.  Mom's with young babies can together create an age appropriate setting where they all bring their young children along, or simply find ways to involve your youngest child in your usual Halloween celebrations.
Here are some ideas for Halloween celebrations for young children to help babies and toddlers enjoy the day.
TV and Cartoons. Your children will no doubt see a lot of Halloween movies, cartoons and tv shows on around the Halloween season. This is both an entertaining and fun time for them to learn all about the tradition, characters and festivities of Halloween.  Young children will naturally soak-up anything they see and hear. Show them movies you think they will enjoy that will introduce them to the idea.
Craft Projects. While babies under one year will not be able to take part in most craft projects, toddlers and other young children will enjoy drawing, gluing, cutting and creating decorations. Encourage them to make decorations at home as well as at pre-school and use them to decorate their bedroom or parts of the house so other moms can admire them too! One fun thing to do is create cute monsters out of play-doh and other modelling clay.
Food. All candy will of course need to be age appropriate. Keeping snacks simple for young kids, is very doable. If you have young kids and moms attending your Halloween party, be sure to provide a plate of snacks appropriate for them.
Young Children's Costumes. Even young children enjoy dressing up in Halloween costumes, and it can be a great way of showing them that it's all not real. Make sure any costume or prop for a child is age-appropriate, and doesn't include elements that can be swallowed. If you're stuck for costume inspiration for your little one,Spirit Halloween has a great range of young children's costumes. There are plenty of baby onesies available for Halloween which come in a range of designs. Check out Spirit's Website for some cute baby and toddler costumes.
Music and Games. Have your young children around to share the fun and watch older children participate if they are too young themselves to be involved. Include them in the Halloween atmosphere. To them, it will just be another day to play with other children. All children love music and games, so before their bedtime let them enjoy the party too.
Talk to them. If your toddler is expressing fear or trepidation about Halloween activities, talk to him or her about the fear. You may be able to help them understand that Halloween is just for fun, and there really aren't monsters wandering around the streets.
Halloween will be a long day for young children, so be sure they get the rest they need and have a quiet place to sleep during an evening Halloween party. As they grow older, they will learn to love Halloween!
About the Author
Halloween Spirit are your one-stop shop for everything Halloween, from freaky and fun costumes for adults and kids, through to hats, masks, accessories and oodles of spooky fun.