Homemade Mother's Day Gift Ideas
When it comes to gift-giving, there is one thing that goes by a certain rule. Moms prefer homemade gifts crafted with love more than anything else in this world. Remember the tears in her eyes when you gave her a poorly tied bouquet of wild flowers or a shapeless Plaster-of-Paris object on her birthday or Mother's Day? Not much has changed now except the fact that you can craft something much more beautiful and useful for her now. Below are a number of ideas for homemade gifts for kids and adults to gift to their mother on this very special occasion.
CRAFT GIFTS:

1. Handmade Cards
Handmade Cards are the simplest and the best ways of greeting Mom on the morning of Mother's Day as well as showing her your emotions. Written words often speak more beautifully than verbal conversations. Gift her a handmade card along with breakfast in bed or slip it into the bouquet of flowers or just hand it to her with a kiss. We have some easy projects that make lovely cards without taking up a whole lot of your time. And we even have some ideas for toddlers to join in the card making fun and create special gifts for their mommies.
Handmade Mother's Day Cards – Do this Project

2. Apron
A Mom can never have too many aprons. Be it gardening or in the kitchen, a pretty apron is always welcome. Make this beautiful apron with matching pot holders for Mom for a perfect Mother's Day gift. Women of all ages and skill level will be able to do this easy sewing project and the results are simply wonderful. Use a store-bought apron to start with and use matching and co-ordinating fabric to turn it into a beautiful piece of art. The apron has a distinct touch of spring and gardens to it and is sure to be loved by everyone.
Cottage Apron with Pot Holders – Do this Project

3. Eye Pillows
Remember how many worries you have caused your mother? Well, now it's time to help her relax and unwind. Lavender & Flax seed Eye Pillows are very nice to have when you want to take a break and rest your eyes a bit. Lavender is very well known for it's calming & stress reducing effects. These pillows are extremely simple to make and will make a thoughtful and much appreciated gift for Mom.
Lavender & Flax seed Eye Pillows – Do this project
4. Gossamer Card
Make Mom a handmade card! A pretty handmade card is just the thing for Mother's Day. With ready-to-use card stock and a few tools easily available at craft stores, you will be able to make a personalized greeting for Mom in no time. A pretty idea is this Gossamer Butterfly Card project on our sister site I Love To CRAFT.
Gossamer Butterfly Card for Mom – Do this project
5. Personalized Pillow
A lovely way to send across your Mother's message is to sew a personalized 'Message Pillow' for Mom. Pillows with embroidered messages or sayings are popular items at gift shops and shops specializing in home decor accessories. Using your own sewing machine you can create a personalized pillows for Mother's Day.
Message Pillows – Do this project

6. Papier Mache Bowl
A simple and elegant gift that kids can gift their Moms is a Paper Mache bowl. Papier Mache bowls can be made in a number of shapes and colors and can be decorated to suit Mom's taste. Using craft paper instead of ordinary newspaper lends the bowl a nice texture and color. Spray painting, pasting cutouts, collage and further decorating embellishes the bowl for a perfect gift for Mom.
Papier Mache Spray Painted Paper Bowl – Do this Project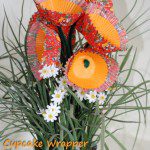 7. Cupcake Wrapper Flower Bouquets
Kids will love to make colorful and unique bouquets to give to mom on Mother's Day using only cupcake liners and chenille sticks. Use up all your left over cupcake wrappers, especially the mis-matched ones and use different sizes and prints to create beautiful flowers.
Cupcake Wrapper Flower Bouquets – Do this project
More Crafts:
GIFTS FROM THE KITCHEN: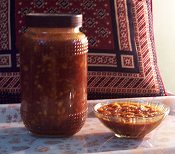 8. Jams, jellies, chutneys, dips and such other preserves make great Mother's Day gifts. Your mother will be more than pleased to add to her pantry a decorated jar of fruit jam or chutney.
See Recipes for Jams and Preserves
9. Flavored butters and oils also find great favor. Flavored butters can be made easily by mixing softened butter with desired herbs and spices. Favorite choices are garlic butter, cinnamon butter, basil or any other herbed butters, horseradish butter etc. Cheese, nuts, sauces and dried onions enhance the taste. Similarly, you can flavor good quality olive oil with garlic, chili etc.
10. Your mom must have baked you a great many types of cakes and cookies. Now it's your time to pamper her! Bake a set of mini-cakes or cookies for her. Muffins and Cupcakes look very attractive in their paper cases lined up in a decorative gift box.
BATH AND BEAUTY GIFTS
11. You can prepare at home, a variety of bath salts, milk baths, bubble baths, bath blends, bath teas and soothing hand creams. Make them yourself and package them attractively in clear bottles tied with ribbons. Let Mom indulge! Then give the gift of youth with the Genie Hourglass.
GARDENING GIFTS
13. Potted plants make great Mother's Day gifts. Choose scented flowering plants or herbs for gifts. Wrap the plants in colored cellophane and tie with a bow. You can also place pots of several herb plants in a large planter or tray and gift Mom a 'herb garden'!
13. Put together a Gardening gift basket for Mom. If gardening is her passion, fill a pot or gardening container with a new pair of gardening gloves, a hand trowel, and a hand trimmer. Bring along some potting soil and any flowers or plants that catch your attention.
FROM OUR SISTER SITE
Celebrating Mother's Day – This site is completely devoted to creative ideas for Mother's Day and has, among other things, Mother's Day Gift Ideas, Mother's Day Crafts & Homemade Gifts, Ideas for Mother's Day Flowers etc.