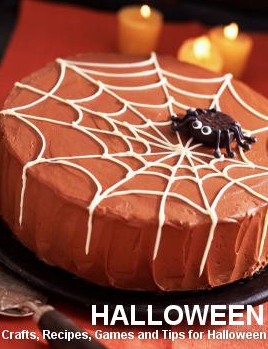 Dot Com Women has a bonanza of Halloween themed recipes, projects, articles and tips to help you celebrate Halloween in perfect style. We have bats, witches, spooky treats, DIY costumes, pumpkin carving patterns and the best of Fall ideas. Find below, links to all Halloween-related articles and projects on Dot Com Women website.

Halloween Recipes

Halloween Crafts

 Getting Organized for Halloween: 10 Spooktacular Tips

Halloween Pumpkin Carving

 Halloween Haunted House Decoration Ideas

 Halloween Home Decorating

 Quick And Easy Halloween Decorations

 Halloween Party Themes

 Colonial Halloween Party Theme

 Party Plans for a Spooktacular Halloween

 Halloween Party Games
Halloween Safety Tips

 Halloween Safety Tips – Keep Your Kids Safe This Halloween

 Pumpkin Carving Dangers and Safety Tips

From our network of Sites
• Celebrating Halloween – A complete site dedicated to Halloween. Free Halloween Recipes, Crafts, Costume and Scary Makeup ideas, Party Ideas, Decorating Tips, free printables, clipart and more.
• Halloween Recipes – Creative Halloween Recipes from our sister site – All Holiday Recipes.