How To Ensure Your Family Has A Magical Christmas This Year When Funds Are Tight
Anyone that celebrates Christmas is more than aware that this holiday season is the most magical of all – well, anyone that appreciates Christmas will. While some aren't about to start jumping around quoting the likes of Elf and The Grinch from the moment it turns midnight on October 31st, some of us do, and it can be particularly heart breaking when we know that this Christmas is going to be a particularly tight one in the way of money. While you always have the option of one of the many payday loans UK has to offer for a bit of extra cash, we've decided to look into some low cost, and even completely cost-free options for making your Christmas as magical as ever.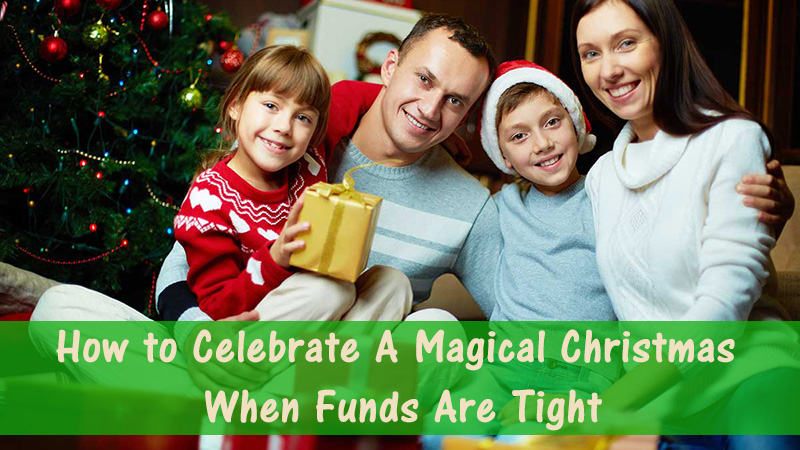 The Prep
This might seem obvious, but let us explain. When it comes to buying gifts, wrap absolutely everything. That means that if you buy a four pack of lip balm, or a collection of toiletries, for example, you need to wrap them all one by one. This might seem a little extreme, but when you're buying for kids it's likely that they won't even know you've split up a single gift – and it also adds all the fun of opening more! They're still getting the entire gift, but they get to spend more time opening it. You could even get inventive with how you wrap these multi-pack buys to add a little extra mystery!
This can apply to gifts as well as decorations, and is becoming more and more popular with every year that passes. I'm sure you've seen the countless mason jar crafts, and self-made hampers that circulate the likes of Pinterest and Facebook, but maybe this year it's time to take notice. While children might prove a little harder to please with handmade gifts, your older relatives that you want to buy for, or any teenagers in your family will probably appreciate a handmade sugar scrub, or a make-your-own-cookies jar. They're simple and cost effective, and it's likely that they'll appreciate the effort you've put into the gift too.
The Big Day!
Of course, wrapping everything will make it last a little longer, but try and make more of a deal out of present opening. As much as your kids probably want to rip open every present all at once, try and get them to settle and open everything one by one. Not only will it make the whole present opening ordeal last longer, but it also gives them a better chance to look at what they've got – not to mention you can swipe the wrapping paper away and into a rubbish bag before it all becomes difficult to navigate.
Decorating your dinner table – or even breakfast table if you make a big deal out of your Christmas morning breakfast! – can prove to be quite the effective way to make your day special. Speaking of Christmas morning breakfast, if you don't already do this, this can be another way to fill some time in the day with family activity. Even something as simple as a bowl of cereal can be made festive with some edible glitter, or if you're willing to give them the sugar rush that early, add some sprinkles to toast! It's cheap, simple, and will keep your kids happy. But back to decoration – you can effectively decorate your Christmas table all with a quick trip to the pound shop. Centrepieces, cute crackers and festive cutlery or napkins can all be bought pretty cheaply, and add a whole new level of festivity to your day.
Be Creative With The Activities!
So, breakfast is done, you're not quite ready for dinner yet, and your kids are already bored with their presents. What do you do now? Activities! Only you'll know what your children will actually get involved with, but how about breaking out a Christmas themed puzzle for the whole family? If the thought of getting them sat down for long enough for a puzzle makes you laugh, you could break out a few more active board games, or even download the Head's Up! App from the app store. After dinner, when things start to calm a little, you could always break out a movie and watch something festive with everyone. Build a blanket fort, or gift your children with new movies and pyjamas that they'll be more than excited to use – after all, it's new! Snacks can be bought pretty cheaply and put into bowls to pick at the whole time – what could be better?
But Most Importantly…
Most importantly, you need to remember that Christmas is about spending time together as a family. While your children might want the newest laptops or games consoles, sometimes this just isn't feasible, so instilling a sense of 'Christmas is about family' mentality in them pretty early on could save you the temper tantrums in the future. Whatever the case, Christmas can be magical without spending a fortune, and we hope our tips have helped you work out how to do just that.