Christmas Swags for Door Decorations
Gorgeously Victorian, swags are a beautiful way to decorate your doors and windows for Christmas. Easier to create than wreaths, swags can be made using seasonal evergreens or artificial materials to match your decor and tastes and are the perfect wreath alternatives.
Here are some beautiful swags that will inspire you to create or buy your own to decorate your home for Christmas.
Homespun Touch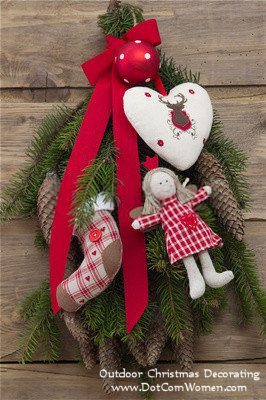 Outdoor Christmas Decorating begins at the door. Create a homespun swag for your door this Christmas. Gather pine boughs laden with pinecones. Attach stuffed, fabric ornaments. Use red ribbon to tie a bow at the top along with a bauble.
Colorful for the Kids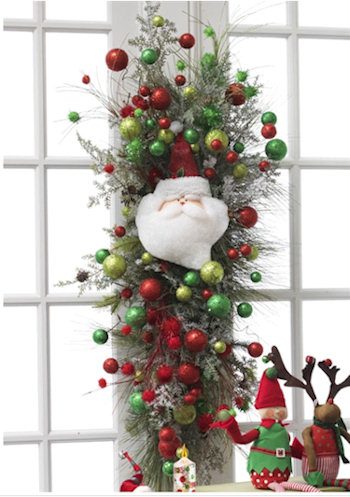 Not just for kids really, this brightly colored swag  is perfect for Christmas window decorating whether indoors or outdoors. A snowy cedar branch is  used over a plain pine swag. This base is then decorated with sprays of small (tinsel ball) and large (glittered ball) round ornaments. A Santa Face ornament is attached to the center. All supplies available at RAZ Imports.
 Quick and Simple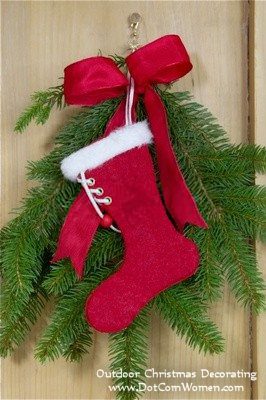 Make this festive-looking pine swag in a jiffy to spruce up your door or fence for Christmas. Go hunting for a lush, green pine swag and tie a bow using wide red ribbon and hang on your door. On the same hook, hang christmas stockings and you have a wonderful alternative to a traditional wreath.
Colonial Style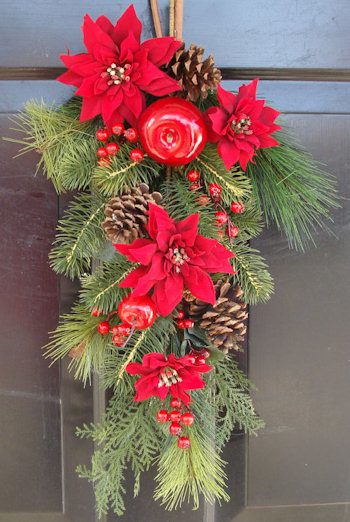 Fit for a Colonial Williamsburg Front Door, this swag wreath has delicious-looking artificial apples and shiny cranberries along with large poinsettias on the base of a pine swag. Available from Etsy Seller Elegant Holidays.