Throw a Hayride Party this Fall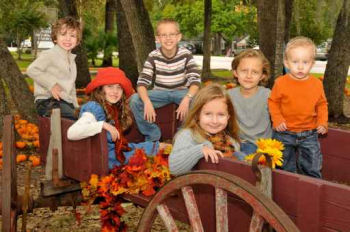 Scrapped for ideas for a get-together this autumn? Perfect for after apple-orchard hay rides, leaf-raking progressives, or autumn afternoons outdoors, these recipes and decorating suggestions for a "hayride" themed party from Patty Sachs' Pick-a-Party Cookbook are sure to become a fall favorite.
Hay Ride
After a raucous time out on a hay ride, the crew will have worked up an appetite for good, tasty, warm-up fare. Start them off with hot drinks, and follow with hearty and satisfying party eats to give your guests a "great ride."
Hot Buttered Cranberry Punch
Makes: 12 4-ounce servings
16 ounces jellied cranberry sauce 1/3 cup brown sugar ¼ teaspoon cinnamon ¼ teaspoon ground allspice 1/8 teaspoon ground cloves 1/8 teaspoon nutmeg 1/8 teaspoon salt 2 cups water 2 cups pineapple juice Butter
1. In a medium saucepan, mash cranberry sauce with a fork; mix with sugar, spices, and salt. 2. Add water and pineapple juice; cover and simmer for 2 hours. 3. Ladle the punch into mugs, and float a small pat of butter in each serving.
Warm Berry Pie à la Mode
Makes: 8 servings
2 medium cooking apples, peeled, cored, and thinly sliced 1 tablespoon lemon juice vegetable cooking spray 10 ounces frozen raspberries in light syrup, thawed 1 cup regular oats, uncooked 3 tablespoons margarine 1 teaspoon ground cinnamon ½ cup walnuts, chopped 2 tablespoons honey ½ teaspoon ground nutmeg ice cream or whipped topping
1. Preheat the oven to 375 degrees. 2. Combine apples and lemon juice; toss gently. 3. Place the apples into a 10-by-6-by-2-inch baking dish coated with cooking spray. 4. Top with raspberries. 5. Combine oats and remaining ingredients except the ice cream; sprinkle evenly over raspberries. 6. Bake for 30 minutes, or until lightly browned and apples are tender. 7. Cut into squares and serve warm; topped with a small scoop of ice cream or a dollop of whipped topping.
Food Service and Decorative Touches
Set the table casually – plastic and paper table covers, service ware, and utensils.
Decorate in colors to match your overall theme. If you use this theme for a shower, use wedding/baby colors.
Light the room with lanterns, battery-operated lights and, if allowed, candles. (Some venues do not allow candles on the premises because they are a potential fire hazard.)
For a western setting, use bandannas as napkins, accents, and trim for centerpieces, and even spread them out as place mats. (Two bandannas can be knotted together and draped over a chair back for a great decorative touch.)
Serve foods, breads, and snacks in baskets, wooden buckets, or small barrels.
Create mini hay-bale boxes and fill them with fresh or straw flowers; trim with bandannas or gingham ribbons.