Spa Party Menu for Grown-Ups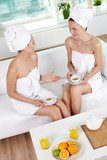 The Spa Party Menu
Keep it light! You don't want your guests feeling overly full and uncomfortable, prepare fresh foods presented in a simple, beautiful fashion. Create an appealing setting for your food keeping it all together on one table, this makes it much easier to replenish, as needed. Use linen tablecloths and napkins, instead of plastic and paper. TIP: Budget minded individuals-Take a trip to your local dollar store for these items. Please, please…no paper plates, plastic beverage bottles, plastic eating utensils, etc. And don't spend a lot of time on the eats, unless of course, you have a lot of time! If selecting a caterer, remember, it is so much more than just food, drinks, or both, decide if you will need additional tables, chairs, plates, glassware, silver, linens, etc.
Cuisine Ideas:
Shrimp Platter with Citrus Cocktail Sauce
Purchase a quality platter or make your own using Extra Large or Jumbo Shrimp that is steamed, split and de-veined, your Seafood department at your local grocers will assist you. Be sure to have ample lemon and orange wedges.
Cocktail Sauce:
1 cup ketchup
Zest of 1 lemon (about 1/2 teaspoon)
1 tablespoons freshly squeezed lemon juice
1 tablespoons freshly squeezed orange juice
4 teaspoons prepared horseradish, or to taste, drained
1/4 teaspoon Worcestershire sauce
Hot sauce, to taste
Combine the ketchup, lemon zest and juice, horseradish, and Worcestershire sauce in a small bowl. Add hot sauce, if desired. Mix well, then refrigerate until ready to serve.
Fresh Vegetable Platter with Lemon Dill dipping sauce
Purchase a quality platter or buy bags of pre-cut veggies at the super market and arrange on a platter lined with fancy colored lettuce with the bowl of dipping sauce in the center.
Lemon Dill dipping sauce
3 shallots
1 tablespoon dried dill leaves (or 2 tablespoons fresh)
1 tablespoon lemon juice
1 1/4 cups sour cream
Pinch of white pepper
Mince the shallots. Combine the shallots with the rest of the ingredients. Chill. This sauce may be prepared in advance. Makes 1 1/2 cups.
Fresh Fruit and Cheese Platter
Once again, purchase a quality platter or buy fresh fruit at the produce department taking advantage of the pre-cut ready to go fruits, and a variety of sliced cheeses.
Simple Salad Platter with Raspberry Vinaigrette
Use a variety of mixed greens, seeded-tomatoes and cucumbers and top with course chopped flat leaf parsley. Ease this task by using select pre-washed, cut lettuces.
Raspberry Vinaigrette Dressing
equal parts of olive oil and raspberry vinegar
pinch of salt
pinch of pepper
clove of garlic
small mixing bowl
Chop the clove of garlic finely and put in the bowl. Add equal parts (about 1/4 cup each) of olive oil and raspberry vinegar. Add the salt and pepper. Mix together and add to your basic green salad just before serving.
If you opt to make an entrée, you may like to try this delicious recipe from an issue of Cooking Light Magazine. Much of this can be prepped in advance, and it is fabulous!
TIP: Instill the help of your assistants for pre-party help too!
Chicken Lettuce Wraps
Ingredients:
1/3 cup reduced-fat peanut butter
1/4 cup honey
3 tablespoons yellow miso (soybean paste)
2 tablespoons water
2 teaspoons fresh lime juice
1/8 teaspoon ground red pepper
Cooking spray
1 pound skinless, boneless chicken breast halves
12 romaine lettuce leaves
2 cups (2-inch) julienne-cut carrot
2 cups (2-inch) julienne-cut peeled jicama
1 cup (2-inch) julienne-cut seeded peeled cucumber
1 cup fresh bean sprouts
1 cup shredded red cabbage
Method:
Combine first six ingredients in a bowl; stir well with a whisk. Set aside.
Heat a large nonstick skillet coated with cooking spray over medium-high heat.
Add chicken; cook 4 minutes on each side or until done.
Cut the chicken into 1/8-inch-thick slices.
Cut off the raised portion of the main vein of each lettuce leaf.
Divide chicken evenly among lettuce leaves; top with carrot, jicama, cucumber, bean sprouts, and cabbage, dividing evenly.
Roll up, and secure with a pick.
Serve with sauce.
Serves 6 (serving size: 2 wraps and 2 tablespoons sauce)
Fondue ~ Chocolate-of course!
If you don't already have one, fondue pots can be found just about anywhere, melt some good quality chocolate and serve with big fresh Strawberries, fluffy Marshmallows, and whatever else you like.
The Bar
Serve Iced Teas and Fresh or Sparkling Waters in pretty pitchers, with a dish full of lemon and lime slices and wedges. TIP: Beautiful glass Pitchers and Platters can be bought at most Dollar Stores. You may also like to serve select Wines, Champagne, Flavored Coffees, Hot Herbal Teas and Fresh Juices.
NEXT >> The Gifts/Party Favors
Back to >> Host a Holiday Spa Party
MORE in Planning Your Spa Party: