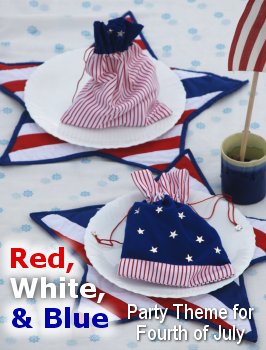 What would the Fourth of July be without the colors of the American flag? Red, white and blue are patriotic and hold special meaning for our citizens, especially on Independence Day. A red, white and blue theme party is easy to put together and is the perfect way to celebrate this fun summer holiday.
Here are some tips that can help you start planning your party:
Invitations
Buy red, white and blue invitations from a stationery store or make your own. Because a Fourth of July party is usually quite casual, telephone and email invites can also suffice. Ask your guests to honor your theme by dressing in red, white and blue clothing. Send out invitations a few weeks ahead of time, and let guests know whether your party is going to be indoors or out so they can dress and plan accordingly. If you have a pool or water will be involved, include this on the invites so guests can wear swimsuits under their clothing.
Decorations
Big bunches of red, white and blue balloons are the perfect decorations. If you want something a bit formal, you can decorate the tables with silk floral arrangements in your colors of choice. If your party is going to be held in the evening, string red, white and blue lights outside to provide some illumination.
Some ideas do-it-yourself decorations are also very simple and easy-to-make. Kids can make Fourth of July Paper Chain Decorations and you can put together some Strip-Quilted Red, White & Blue Stars to hang from wherever you please. The stars can also be used as placemats on your table.
Menu
Your menu can even adhere to the color scheme. For your main dish, go for traditional cookout fare that can be made outdoors on a grill like burgers, hot dogs, chicken, steak, fish and grilled vegetables. Potato salad, macaroni salad, watermelon slices and fresh vegetables and fruits are also great. Dessert and beverages are fun and can really work with your patriotic colors. Serve red and blue punch and look in some bartender recipe books for fun red, white and blue cocktails. For dessert, try a vanilla cheesecake in a rectangle shaped pan with strawberries and blueberries simulating the American flag. Or, serve angel food cake cups topped with whipped cream, strawberries and blueberries. Layered gelatin desserts with red gelatin, blue gelatin and white whipped cream can also work.
Games and Activities
You'll find no shortage of fun games and activities. If you have a pool, swimming is a great idea. If not, host a squirt gun fight or turn on the sprinklers and coax guests to run through. Have a fireworks display after dark or at least hand out red, white and blue sparklers for guests to wave around. Old-fashioned games like gunny sack races and three legged races are also traditional and fun.