Recipes – Thanksgiving Ham Dinner Menu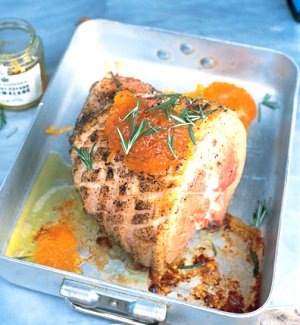 If you have a family dinner or a holiday party coming up, or want to reinvent the Sunday roast, there's nothing outrageous about buying a ham and roasting it. You can feed loads of people and the possible side dishes are endless. I prefer a side of creamed corn, and a sticky toffee pudding as an amazing end to a great get-together. It's all delicious and easy to serve to lots of people, especially during the holiday season.
Roasted Marmalade Ham
There is something quite old English about roasted marmalade ham. It tastes like it would have been eaten at a royal banquet. But forget about the romantic notions, the reason this combination is so genius is because through careful poaching you will get juicy moist meat; by sprinkling the meat generously with black pepper you will get a wonderful heat; and by smearing the whole thing in marmalade you will get a beautiful tart sweetness. It really does make the most wonderful roast dinner and the leftovers can be sliced and served on a crusty baguette the next day with some hot mustard and a little arugula.
Serves 10 Plus
7 – 81/2 pound middle cut ham with the knuckle left on 2 carrots, roughly chopped
2 sticks celery, roughly chopped
2 bay leaves
16 black peppercorns
1 bouquet garni (a piece of leek, celery, a bay leaf, a sprig of fresh thyme)
2 oranges
2 tablespoons sea salt
3 tablespoons freshly ground black pepper
1 jar of best thin-rind marmalade
A handful of fresh rosemary, leaves picked
First of all, you want to place the ham in a large but snug-fitting pot. Cover the ham with water, then throw in your vegetables, bay leaves, peppercorns and bouquet garni. Peel the zest from the oranges and add to the water, then squeeze the juice in and add the salt. Bring to a boil, then turn the heat down and simmer for an hour and fifteen minutes with a lid on, skimming when need be. Remove from the heat and allow to cool for a half an hour in the broth. This will allow the flavors to really penetrate the meat. Discard the vegetables from the broth, but keep the broth for making minestrone-type soups – it will freeze well for use another day.
Preheat the oven to 325 degrees. With my Amana range, I never have to worry about not having enough room for the ham. It's larger than most traditional ovens, so I can even cook side dishes and dessert at the same time!
Carefully remove the meat to a board and, using a knife, take off the skin. You should have a nice layer of fat. Remove for roasting with potatoes another time. Score the far left of the meat in a criss-cross fashion, and while it's moist, season it generously with the ground black pepper. Place the meat in a roasting pan and roast for 20 minutes in the oven until the fat renders and becomes slightly crispy. Remove from the oven, stir up the marmalade to loosen, then smear and rub it all over the meat with the rosemary. Place back in the oven for about one hour and baste frequently until beautifully golden and crisp. Basting can sometimes be harder than you would think because the oven is hot and the pan can be hard to reach. But, I never have a problem with the Amana EasyRack in my oven — it's shaped like a "U," so it's easy for me to get to my ham without touching the rack. Once the ham is ready, serve as you would a roast dinner or as part of a picnic.
Creamed Corn
This creamed sweet corn is delicious, and a great alternative to mashed potatoes or polenta. First of all, cook 14 ounces of corn in a pan with a good knob of butter, a wineglass of water and some crumbled, dried chili. Cook with the lid on, on a medium heat until the corn is tender. Then place it in a food processor and blend until creamy and smooth. At this point you could add a little crème fraiche, but you may like it just as it is. Season to taste with salt and pepper and serve on a big plate, sprinkled with some baby mint leaves and orange zest.
Sticky Toffee Pudding
You are going to love this pudding – it has a rich, fantastic flavor and the sauce is amazing. Fresh Medjool dates are best to use, but dried ones work well, too.
Serves Eight
8 ounces fresh dates, stoned
1 teaspoon bicarbonate of soda
3 ounces unsalted softened butter
6 ounces caster sugar
2 large free-range eggs
6 ounces self-raising flour
1/4 teaspoon ground mixed spice
1/4 teaspoon ground cinnamon
2 tablespoons Ovaltine
2 tablespoons natural yogurt
For the toffee sauce:
4 ounces unsalted butter
4 ounces light muscovado sugar
5 fluid ounces double cream
Preheat your oven to 350 degrees. Put the dates in a bowl with the bicarbonate of soda and cover with 7 fluid ounces of boiling water. Leave to stand for a couple of minutes to soften, then drain. Whizz the dates in a food processor until you have a puree. Meanwhile, cream your butter and sugar until pale using a wooden spoon, and add the eggs, flour, mixed spice, cinnamon and Ovaltine. Mix together well, then fold in the yogurt and your pureed dates. Pour into a buttered, ovenproof dish and bake in the preheated oven for 35 minutes.
While the pudding is cooking, make the toffee sauce by putting the butter, sugar and cream in a pan over a low heat until the sugar has dissolved and the sauce has thickened and darkened in color. To serve, spoon out the pudding at the table and pour over the toffee sauce.
Courtesy of ARA Content For more information, contact Katie Sonderman at (641) 787-8100 or ksonde@maytag.com. Recipes and photography are available on www.amana.com.