Pizza Grilled Cheese Sandwich Recipe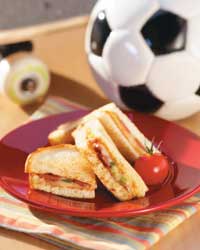 A delicious twist on the classic grilled cheese sandwich, these are full of yummy pizza flavour and can be made to order with any of your favourite toppings. Great for lunch, after-school or dinner.
Ingredients:
2 slices Wonder+ Bread 1 tsp margarine 2 tsp pizza sauce 2 tbsp low fat (part skim) shredded mozzarella cheese Your favourite pizza toppings (4 thin pepperoni slices, 1 sliced mushroom, 1/4 green pepper)
Method:
Lightly spread margarine on one side of each slice of Wonder+ Bread.
• Place one slice margarine side down in a frying pan over medium heat.
• Add pizza sauce, shredded cheese and all your favourite toppings, and cover with the second slice of bread, margarine side up.
• Flip and lightly brown.
• Once cheese is melted, remove from heat, slice in half and enjoy.
Serves 1 
– News Canada