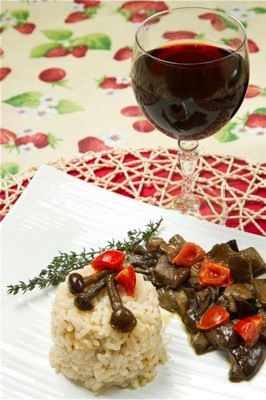 Risotto is a smooth and creamy rice dish that originated in the Italian Piedmont. In northern Italy, rice is cooked in broth with other ingredients such as vegetables, mushrooms and herbs. The word comes from risotto, the dialect of Lombardy and seems similar to the Italian word for rice: riso.
Pairing Wines with Risotto
The smooth, creamy and sometimes spicy risotto requires a wine with a certain roundness and freshness to avoid feeling heavy. An excellent choice is the Barolo. Actually, no other wine makes a radish or truffle risotto or any rich risotto taste better than a Barolo.
Pairing Wine with Truffle Risotto
Risotto with fresh truffles depends on the quantity of truffle like medium, heavy weight, smooth, ripe or savory in taste. Both white and red wine are suitable for serving with truffle risotto but they must still have an intense and persistent bouquet and a little structure. Some examples are:
Complex Chardonnays (Meursault, Puligny-Montrachet)
Savennières
Vouvray;
Barolo
Barbera
Vosne-Romanée
Vintage champagne
Scrimaglio, Barolo, Italy, 2004.
This is a wine with a ruby red, medium, intense, clear color. It has a tantalizing aromatic scent of cherries, plums, tea and violets. The taste also has some leather and truffle present but also tastes of ripe tannins and is full bodied. The Scrimaglio is a great wine to pair with risotto, being a fully mature Barolo.
Albert Bichot, Meursault, France, 2007
A wine with a straw yellow, brilliant color. This wine has a scent box of melon, pear, apple and peach with some cedar. A taste very clean, pure and of subdued fruits (melon, apple, apricot and peach). The flavor is packed into a healthy serving of vanilla, slightly tropical and culminating in a long, fruity, hazelnut-like finale.
Combines excellent solely (with butter and lemon), baked sea bass or turbot baked in butter and a rich truffle risotto.
Pairing Wine with Mushroom Risotto
This risotto is a moderate dish, creamy, savory flavor and ripe. Both white and red wines can be served with a mushroom risotto, where they will be lighter in style than with truffle. A good combination is possible with Pouilly Fuisse, Vouvray or Pessac-Leognan, a Pinot Noir from Alsace, a Volnay or a Barbaresco. Another very good candidate at the table would be vintage champagne.
Albert Bichot, Aloxe Corton, Burgundy, France 2007
Wine with a brilliant ruby red color and the perfume of cherry, plum and blue kruidigs. Plump and clean, full and firm, with candied cherries, blue plums and red berries, light fume. The wine has a taste of ripe, fine tannins that slowly dries at the end.
This wine can be combined with tagliatelle with truffles, roasted guinea fowl with herbs, grilled tuna with pepper sauce or mushroom risotto.
Piper Heidsieck, Millesime 2000, Champagne, France
A brilliant light yellow color with a delicate mousse, seductive scent of citrus, grapefruit and brioche. Rich and ripe. The taste is creamy and rich, mineral and refined with a high persistence of the bubbles. Plenty of depth and flavor and with a huge fraîcheur that lingers deep until the end.
This wine is ideal with richer entrees such as lobster, quail, pheasant and mushroom risotto.