Serve fresh cucumber sticks in natural containers made of cucumbers themselves!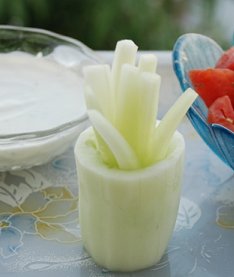 How To:
1. Peel Cucumbers and cut in half.
2. Cut one half of the cucumber in thin sticks to serve with dips.
3. Using a melon baller, carefully scoop out the other half, making an empty hollow inside but leaving 1/2 cm width of the sides intact.
4. Slice off a piece from the bottom to make the hollowed cucumber stand.
5. Place the sticks inside the hollow and serve with bowls of dips.
6. Do this for every cucumber you have and serve these pretty cucumber baskets in groups of 5-6 and scatter them on different trays among the guests.