Chocolate and Mangoes make for a lovely and unusual combination. This cake promises to be a sure winner for all your summer entertaining needs this season. Served chilled, this will be the light, yummy dessert for any party or gathering.
Ingredients: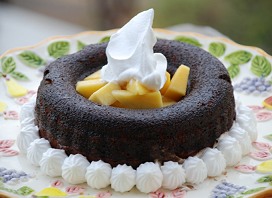 Download image for your Desktop Wallpaper 1024×768   800×600
For the Cake
1 cup (8 oz) flour
1 teaspoon baking powder
1/2 teaspoon baking soda
1 pinch of salt
1/2 can (8 oz) sweetened condensed milk
4 tablespoon butter + more for greasing
1 teaspoon chocolate essence/extract
1 Egg (optional)
4 tablespoons water (more, if required)
For Serving
Chocolate Syrup or Nesquik
1 Large Mango chopped
Whipped Cream to decorate
Baking Equipment Needed
Bundt Cake Pan
Pastry Brush
Icing Bags or Guns with Decorative Nozzles
Directions:
1. Sieve together the dry cake ingredients i.e. flour + baking powder + baking soda + salt and keep aside.
2. Take butter in a bowl and beat well. Add condensed milk and water and beat well.
3. Add the sieved dry ingredients to the condensed milk mixture in batches of 2-3 and beat well. If the batter does not feel light enough, add some more water.
4. Finally, add the chocolate essence and pour in a greased 9 inch bundt pan. If you have a different sized bundt pan, see our tips on making bundt cakes for exact measures.
5. Bake at 350 degrees F (180 degrees C) for about 25 minutes or till the cake is ready.
6. Remove from the oven, let stand for 5 minutes and invert the cake onto your serving platter. Now, let the cake cool completely. If your bottom is too puffed up, use a sharp knife to cut off and make the bottom even.
7. When the cake is completely cooled, use a pastry brush to glaze the cake with Nesquik or any chocolate syrup.
8. Decorate the bottom edges with whipped cream using any decorative icing nozzle.
9. Finally, fill the center with mango pieces and top with a dollop of whipped cream.
10. Chill for at least an hour before serving. When serving, serve each cut slice with some pieces of mango.