Celebrating Chinese National Day – 5 Recipes to Impress Your Guests
The culture, rich heritage and founding of the People's Republic of China is celebrated every year on the 1st October. Across the US and UK, Chinese food is undoubtedly one of our favourite weekend evening pleasures and to help contribute to the celebrations, we've rounded up 5 quick and easy Chinese recipes for you to try your hand at. The recipes we've selected are perfect for impressing guests should you be hosting an authentic Chinese meal – finish your setting with some vibrant decorations and green tea for the ultimate Chinese dinner party.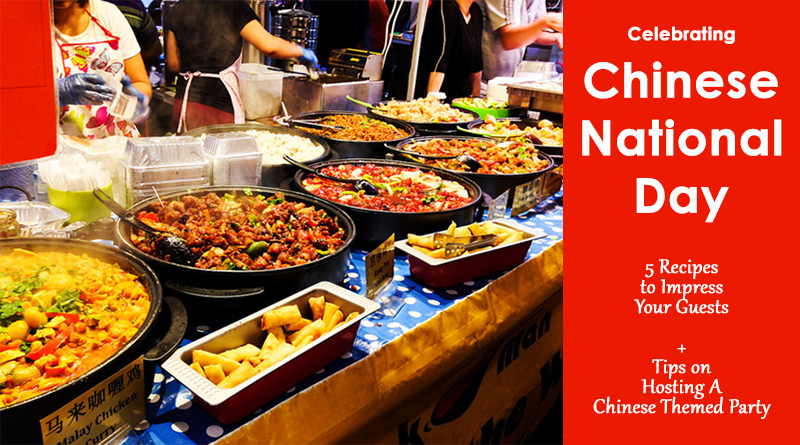 Pork Dumplings
These are perfect for either starting off your night, or serving canape style. With Chinese culture being embraced in the UK and US, you're probably not that too far away from a Chinese supermarket where you can pick up specialist ingredients such as rice wine vinegar and dumpling wrappers. Whilst there, you can probably pick up some great decorations as well! Visit the full recipe here.
Dan Dan Noodle Soup (V)
Chinese food is abundant in veggie options, with tofu being a popular staple. For those of you wanting to host a vegetarian Chinese meal, or cater for a vegetarian, you won't be short of dishes that are just as satisfying as meaty options.
Dan Dan soup is a hearty meal, made in one pot and is super healthy – cook up a large pot and let guests help themselves. What could be more perfect for October than a warming, spicy soup? You can find the full recipe, along with handy tips on how to cook it here.
Spicy Salt Duck
Now, if you want to show off a little, here's the recipe you'll need. It's not hard to cook, but remember to keep an eye on the oil temperature.
Packed with flavour and exotic enough to be that extra bit special, what better way to impress your guests than with a dish we all associate with China.
Sweet and Sour Pork
Sweet and sour is a Chinese takeaway classic and such a crowd pleaser – whip up a big pot of sweet and sour pork and you'll have everyone happy. It's another dish that is really simple to make, and you probably have a lot of the ingredients lying around in the cupboards anyway. You can find the full recipe here, and remember to serve with rice or noodles.
Chinese Fried Rice
It just wouldn't be a Chinese get together without rice would it? To serve with the pork or duck, or whatever main you choose, you're going to need enough rice to go around. Instead of serving plain and dull rice, go all out and jazz it up by adding veg and frying it lightly in a wok. Alternatively, you can serve this dish on it's own.
If you're stuck for time, or just don't want to do the washing up, it's still worth having a celebration. You might just be interested in making sure your guests are entertained rather than being in the kitchen, whatever the reason, ordering Chinese in is the best way to experience Chinese food without the effort. If you're celebrating in the US www.pandaexpress.com is always a favourite, and if you're in the UK, you can easily find your nearest Chinese takeaway here.
Tips on Hosting A Chinese Themed Party
Local Chinese supermarkets, or if you can get to one, Chinatown will have brilliant options for decorations including lanterns and banners. If you don't have one of these available to you, the internet is a great resource, and a simple search will give you a whole range of party accessories sites for you to choose your décor from.
For a nice touch, add fortune cookies to the table or as nibbles with drinks.
Most major supermarkets sell international beers, wines and spirits. Keep everything themed including the drinks, or make your own Chinese inspired cocktails with lychees and other exotic fruits.
It's traditional to serve green tea after a meal in China, offer it to your guests as another thoughtful touch to the evening.
As for music… there's a Chinese Pop playlist on Spotfiy. They really have thought of everything!