Brilliant Ideas for Planning a House Party with Friends
Every party host wants their event to be a night to remember. Forget stifled conversations, awkward silences and early departures – try some of these ideas for your next event to really get the party started at your place.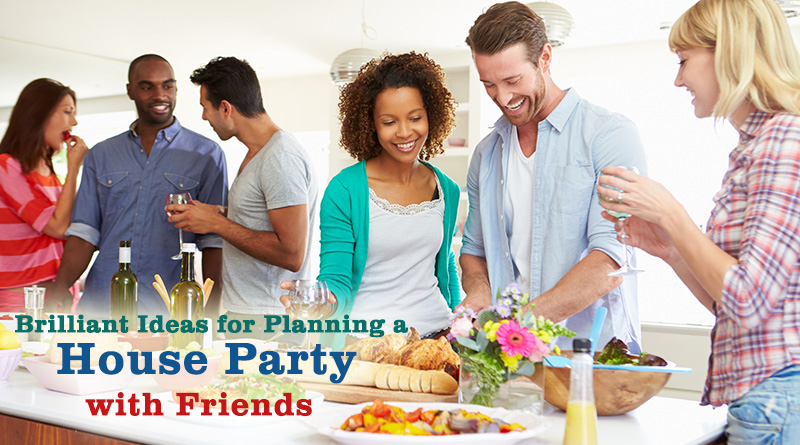 GAMES
Giant, oversized versions of traditional games have become a popular trend for weddings in recent years. But there's no reason they can't work for your house party. Giant Jenga or Pick Up Sticks are favourites to get guests mixing and mingling.
Don't forget about other classics such as Twister, although it may be wise to cut this game off halfway through the night if people are drinking heavily – this game has been known to result in injuries!
It's always a good idea to have a pack of cards nearby too. Often the card players are the last to leave as the competition heats up!
Watch your placement with your games – if you want an area designated for dancing then keep the games separate.
YOUR PLAYLIST
Music sets the scene for any occasion. Your playlist will dictate the mood for the night. Don't throw together a few songs haphazardly at the last minute – give some thought to what songs you want to play. It's always a good idea to add some familiar songs to the mix which will encourage people to sing and dance.
To ensure there's music to cater to everyone's taste, encourage guests to submit their favourite songs with their RSVP. You can dedicate one part of the evening to 'Guest Requests' or you may prefer to intersperse them through the night.
If you're stuck for ideas, take a look at some of Time Out's top 100 party songs.
Need a song to signal the end? Semisonic's Closing Time fits the bill perfectly.
LEAVE A GUITAR OUTSIDE
There's always someone who can play a guitar. And there's usually always more than one person who thinks they can sing along. Leave a guitar out and see what happens – a jam session outside can be a nice break if it's noisy and busy inside.
If the nights are cool, set up or hire some outdoor heating options and a couple of rugs to keep guests warm and snug.
LIGHTING
Next to music, lighting is the key to set the scene. If you want to create atmosphere, then you'll need to switch the bright bulbs for something softer or more dramatic.
Use lanterns to light up outdoor areas and fairy lights to create a welcoming entrance. Fairy lights don't need to be relegated to the Christmas tree – drape them over curtains, above doorways or hang them straight from the ceiling.
Go retro and add a disco ball near the dance floor. Remember to keep bright lights to a minimum if you want people to get up and dance. Your local Byron party hire shop will have a range of lighting ideas for you to consider.
For an extra fun touch, hand out glow sticks and enjoy the light show!
LOTS OF NIBBLES
A responsible host will ensure food and non-alcoholic drinks are available especially if people are drinking alcohol. Mini savoury pies will be gobbled up quickly during the night and are always a favourite. Have nuts, chips and dip placed around the house for guests to help themselves during the party.
If you have a friend who's by themselves, invite them to help serve nibbles to guests – it's a great way to meet others and will make them feel useful.