A Week of Quick Recipes for Working Moms – Quick Meal Recipes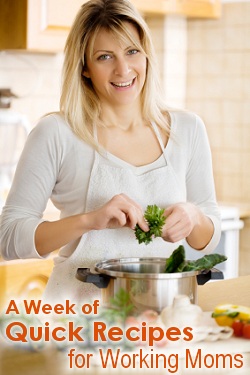 Are you busy schedules coming in the way of the good-old family dinners and you find yourself ordering food or dining out a little too often? Well, cooking meals from scratch isn't the only way to cook. You can go for some short cuts, cook a quick meal and have the satisfaction of having a home-cooked meal and family time on the dinner table.
Whether you are a working mom or going through busy times, breeze past a busy week with these quick and easy recipes and a complete shopping list for the week. Stock your pantry and sail through the week!
Your Menu for the Week
Monday:
Tuesday:
Wednesday:
Thursday:
Friday:
Saturday:
Leftover Night
Saturdays are perfect for leftovers because usually the family is trying to get to different places and no one really has time to all sit down together. See Ideas for Creative Leftovers.
Sunday:
Shopping List:
1 Tomato
Lettuce
French Bread
2 lbs. Boneless skinless chicken breasts
1lb. Ground Beef or Turkey
1 lb. Ribs
Pepperoni or other pizza topping
2 bags of Shredded Cheese
Frozen or can biscuits
1 Can Spaghetti Sauce
1 C. Parmesan Cheese
1 Jar Bar-B-Q Sauce
1 Bag Frozen Broccoli
1 Bag Frozen Vegetables/Pasta
1 Package Spaghetti or linguine
1 Package Elbow Pasta
1 Container of Sour Cream
2 Cans Cream of Mushroom
1 Can Cream of Chicken
1 Can Pineapple (If desired)
1 Package Tortillas