8 Parties To Throw in Your 20s
Rarely does the ability to party until the early morning hours (and spend the next day hangover-free) extend past your 20s. What's more – you rarely find yourself with as much spare time in which to socialize than in your early adult years. Since few things in life are better than enjoying good music and food in the company of friends, make sure you do enough of it when youth is still on your side. Do you want to take your parties to the next level, and earn a reputation as the ultimate party hostess? You'd do well to consider these timeless themes…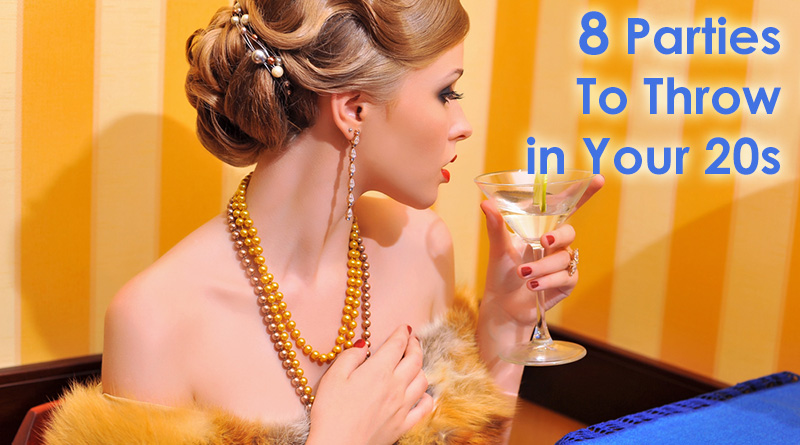 1920s Murder Mystery
Everyone knows (and loves) the classic board game Cluedo and its homage to 1920s noir. The allure is in how the game lets you play detective whilst deceiving your opponents – but why not step it up a notch by bringing the characters to life? Attribute a character to each party guest and ask them to come dressed in the style of their Cluedo persona. For example, whoever plays Miss Scarlett should depict the femme fatale act, whilst Colonel Mustard will come dressed in military attire. Heighten the atmosphere even further with 1920s decor and jazz music. If you'd rather ditch the Cluedo board, try a different 'murder mystery' game such as 'wink murder' or 'mafia'.
Spa Party
This party is 'girls only' and well-deserved after a long work week. What better way is there to recharge than with homemade face masks, DIY pedicures, health-boosting smoothies and a heart-to-heart catch-up with your besties? Bring out the candles and weekly horoscopes…
Poker Night
This get-together is perfect for a more relaxed social evening, with plenty of time for conversation and drinks. Though the idea of playing poker for real money might seem intimidating to some, a casual home game amongst friends is both fun and easy-going. Make sure all guests are familiar with the rules before embarking on your night-long poker journey, and don't forget to shake up some old-school cocktails.
Masquerade Ball
Whilst turning your home into a Venetian ballroom might be overly ambitious, you can recreate the theatrical ambience with your own masquerade party. Go all out with a dress code of glamorous gowns and extravagant masks. As for the menu – canapes and wine are mandatory!
Summer Fiesta
Tacos, tortillas and nachos are a good idea for any party, but extending the Mexican tradition into other aspects of your fiesta will make the event all the more enjoyable for your amigos. A fiesta is great for foodies, as each guest can bring their own southern dish, from guacamole to bean salads. The dress code is simple – colorful bandanas and sombrero galore! And don't forget the tequila…
70s – 80s Disco
Cheesy as they may be, no one can resist the power of disco classics like Gloria Gaynor, Bee Gees and Electric Light Orchestra. What's more – the iconic 'look' of disco's golden era is loved as much today as ever, with 70s and 80s trademarks still influencing contemporary fashion. A 70s or 80s style disco party is the perfect excuse to bring out your neon mesh top and over-sized shades. The playlist is key to the experience, so make sure you plan yours well in advance to avoid missing out on any of the essential hits. Final touches? Get hold of a glitter ball, or at least a lava lamp.
Afternoon Tea Party
Afternoon tea parties are especially appropriate for summer afternoons. 'High tea', as it is also called, was a tradition established amongst Britain's wealthy class around 1840. The practise is popular to this day, and simply involves friends getting together for tea and cake. A multi-tier stand is often used to display the cakes, scones and sandwiches. Tea is brewed in a pot and poured into dainty tea cups. For an extra air of sophistication, decorate the table with an array of florals. If you're a keen baker, an afternoon tea party is the perfect opportunity to showcase your skills in the kitchen!
50s Rockabilly
Inspired by the era of polka dot dresses and hair grease, milkshakes and jukeboxes, Elvis and Sinatra; a 50s rockabilly party is a great theme for a barbecue get-together. Sip coke from glass bottles and dance the night away to the swinging tunes of Chuck Berry.