8 Essential Ingredients for Holiday Baking
Be prepared to make cookies, cakes, pies, breads and more as you head into the busy holiday baking season. Whether it's a cookie exchange at work, a gift for your neighbour or an afternoon open house, you're bound to do some baking this holiday season.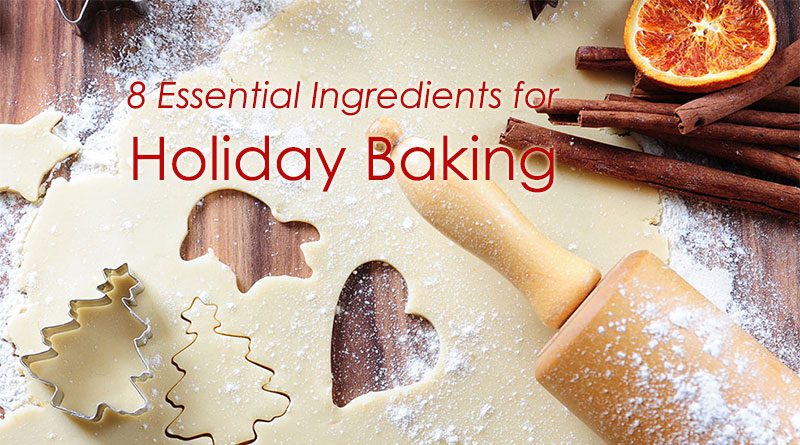 During the busiest time of year, don't end up greasing the pans and assembling the mixer only to find that you're missing an ingredient. Save time — and your sanity — by stocking up on essential baking ingredients before the holiday rush begins.
Dufflet Rosenberg, CEO of Dufflet Pastries in Toronto, shares her list of necessities for a well-stocked pantry and offers a few tips on how to tell if last year's baking staples are still useable.
Flour
Instead of relying on just one kind of flour, Rosenberg suggests buying both all-purpose flour and cake and pastry flour, which has a fine texture and a high starch content.
"Store flour in a tightly closed container, not exposed to light," she says. And while it might seem like a great deal at the time, don't buy the extra large bag just because it's on sale because Rosenberg warns that after the bag has been unsealed, flour only keeps for six to eight months.
Sugar
Fill your grocery cart with a trio of sweeteners when you're prepping for baking day.
"White, brown and icing sugar should be on hand at all times," says Rosenberg.
And while you can keep white sugar for two years, brown sugar will only last for one. But Rosenberg offers a word of caution about storing brown sugar: "It must be kept in an air-tight container or else it dries out."
Spices
There's a reason why holiday baking has a distinct aroma and that's because of holiday spices. Rosenberg declares ginger, cinnamon, cloves, allspice, anise, cardamom and nutmeg essential spices for this time of year. But if you're pulling out a package that was buried in your pantry since last December, give it a whiff before using it.
"It's time to replace spices when they no longer have any flavour or aromatic smell," says Rosenberg. She adds, "For the cost, it's better to play it safe and replace them if you have any doubts."
Leavening agents: Baking powder and baking soda
Baking powder and baking soda help make dough rise and are essential components in the science of baking. You can store these ingredients for nine to 12 months in a cool dry place. "Replace baking soda if it's been exposed to high humidity," says Rosenberg.
Vanilla
Wondering if it's worth the splurge to pick up real vanilla extract? "Pure vanilla extract is far superior in flavour," says Rosenberg. "There really is no comparison to artificial, which is synthetically produced and one-dimensional."
And there's no need to worry that your splurge will be wasted, since pure vanilla extract has a long shelf life of 24 to 36 months.
Chocolate
Stock up on chocolate — if you can resist eating up your inventory. Rosenberg suggests buying bittersweet, semi-sweet and unsweetened baking squares in advance, but to hold off on the more tempting varieties.
"I recommend buying milk and white chocolate as required — otherwise they might get eaten before you need them." She also sings the praises of chocolate chips. "High quality semi-sweet chocolate chips are always good to have on hand for last-minute cookies."
Cocoa
Don't just grab the first container of cocoa you see. "I recommend Dutch Processed cocoa powder for its deep brown colour and mellow flavour. It's not as bitter as non-alkalized cocoa," says Rosenberg.
Nuts and dried fruits
A variety of tasty extras elevate humdrum holiday recipes to family favourites. Rosenberg adds dried fruit such as raisins, apricots, currants and cranberries to keep things interesting.
And don't forget the nuts. Almonds, walnuts and hazelnuts are mainstays in many a festive dish, but feel free to substitute your favourites. You can buy nuts early and store them in the freezer until needed. And if the baking season ends and you find you've got lots of leftover nuts and dried fruit, you can make yourself a healthy snack of homemade trail mix or just sprinkle them on your cereal for an added kick.
With a pantry full of supplies, it's time to break out your favourite recipes, pre-heat the oven and kick off the holiday season with a day of baking. Just don't be surprised if your entire family meets in the kitchen to help sample the results.
Not sure what to bake first? Any of these classic cookies will be an instant hit around the holidays.