6 Fun and Appetizing Snacks to Keep Your Kids Healthy
Kids can be pretty picky when it comes to eating right. As a parent, one of your biggest challenges is to get creative with healthy food – especially snacks. By discovering better ways to supply your child proper nutrition, he or she child will realize that growing strong and healthy doesn't have to be "icky."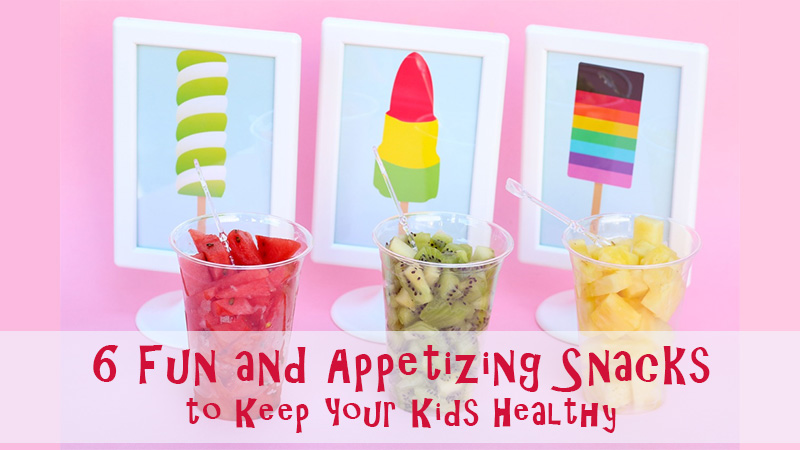 Introduce a whole new perspective to snacking with these exciting and palatable ideas. We promise you that our list of snacks is much better than the regular junk at the grocery. So, what are you waiting for? Read on.
Banana Pancakes
Delight your little grazers as they arrive home from school with these naturally sweet banana pancakes. A kid-friendly recipe that's very easy to prepare, you only need to combine sliced ripe bananas, egg, milk, and a little sugar (optional). Whisk the mixture vigorously. Fry each side of the pancake until golden. Bananas contain vitamin C and potassium that build a stronger immune system and relieve stress from school.
Fruit and Cheese Mini Kabobs
If you want to give your child an antioxidant and calcium-rich food in one sitting, try these fruit and cheese mini kabobs. As one of the most refreshing and delightfully healthy snacks on our list, you can serve fruit and cheese kabobs to your little one and his or her friends while they play. Simply arrange blueberries, raspberries, and cheese cubes alternately in every stick. Make as many kabobs as your kid wants.
Fruit and Yogurt Popsicles
Another superb trick to entice your kid to eat fruits is to turn them into icy popsicles. You can choose from a wide selection of fruits: Mangoes, blueberries, watermelons, and peaches. To make this delicious treat more nutritious, use yogurt instead of milk. The fruits in the popsicles are a source of vitamins A, B, and C while yogurt contains protein and probiotics.
Bugs on a Log
Celery is one vegetable that many adults dislike. The same thing goes for most kids. You can't blame them – celery can be unappealing and flavorless when eaten alone. But despite its boring taste, celery is an excellent solution to reduce your kid's risk of getting coldsand promote regular bowel movement. Play with celery by slicing them into sticks and spreading peanut butter sprinkled with raisins. Call this recipe "bugs on a log."
Mac and Cheese with Broccoli
Running out of amusing ways to come up with fun shapes out of a healthy food? This time, try sneaking a vegetable into a snack recipe that you know your kid loves. Serve broccoli differently this time by mashing the florets and tossing them into a bowl of creamy and tasty mac and cheese. While mac and cheese is a good source of dietary calcium and protein, broccoli supplies iron to reduce your little one's chances of getting anemia.
Carrot Zucchini Mini Muffins 
Are you looking for somethingbite-sized, sweet, and soft that a lot of kids enjoy? Carrot zucchini mini muffins are much better than any dessert. Again, the goal of this healthy recipe is to sneak in vegetables that contain a ton of nutrients. For this snack treat, carrots and zucchini are the main ingredients. You can use pure maple syrup as the main sweetener if you want to avoid brown sugar. After baking the muffins, keep them in your freezer and pop them out during snack time.
Help Kids Live a Healthier Lifestyle
You know that it is often difficult to convince kids to pick the right choice of snacks to support their growth and development. End your struggles right now by saving this list of kid-friendly nutritious snacks. Not only will these recipes keep picky eaters satisfied, this will also pique their interest in choosing a healthier lifestyle.