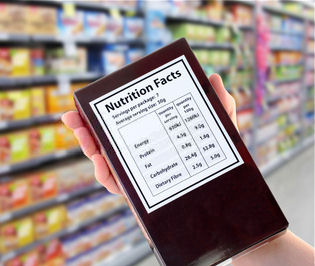 Marketers are smart and you are vulnerable when you are on a diet or just lose a few pounds. They are looking to catch your eye any way they can to sell their product, so as you enter the grocery store, look beyond product covers and box fronts, many of which look healthy but actually may be high calorie.
The more time you invest understanding calorie counts and not relying on the front packaging, the more successful you will be in your weight loss efforts without being frustrated by thinking you are dieting but may not be.
'Low Fat' could mean 'High Calorie'
When you enter an aisle, each product packaging is trying to attract your eye. You are going to see terms such as: "natural", "organic", "low-fat", "lower cholesterol", "low carbohydrate", "sugar-free", "healthy", and "lean". As a guideline, none of these should signal you to action. Stick to reading the actual nutritional value to see the true calorie counts and do not be distracted by marketing tricks.
Something as simple as "low fat" can mean "high in calories", especially in cookies and snack crackers. You pay more then you gain weight while you think you should be losing weight. An example is in the cereal aisle. There are a few adult healthy option cereals that market themselves as diet friendly, but when reading the label, the calorie count is about 250 calories per serving while the kid's sugary sweet chocolate cereal is only 110 calories.
What to Look for in Food Labels
Looking at labels is a sign that you are making nutrition important. When reviewing a label, there are three things to understand in regards to calories. The first is, of course, the calorie counts, which you want as low as possible. The second thing to notice on a label is the serving size. What you are going to find is that one food may be in ounces and one may be in cups.
The final thing to notice is the servings per container. The reason? How many of us have eaten a whole bag of potato chips or a container of ice cream all at one time. Knowing how many calories are in the entire container is a great way to keep from binging.