1250 Calorie Diet Plan for Beginners
Failed diets and out of control obesity may lead you to believe that losing weight is difficult but it is quite easy, at least on paper. The only thing you need to do is keep the calories that you burn greater than the calories that you eat. With this 1250 calorie diet plan, you can lose 2lb per week 8lb per month enough to drop a dress size.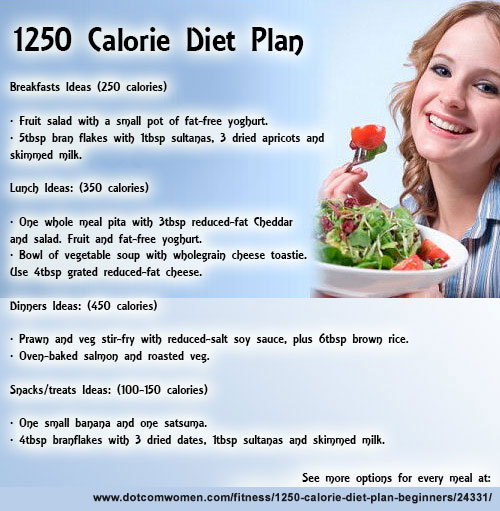 Here's what to do
Choose ONE breakfast, ONE lunch, ONE dinner and ONE snack each day but vary your choices to make sure you get all the nutrients you need.
But do definitely do the following:
1. Drink 300ml of skimmed milk.
2. Drink six to eight glasses of water.
3. Atleast one third of your food should be uncooked, raw and a fresh produce.
4. Limit sugars and artificial sweeteners.
Breakfasts Ideas: choose any one (250 calories)
· Fruit salad with a small pot of fat-free yoghurt.
· Two slices wholegrain toast or bagel with 2tbsp low-fat soft cheese and a tomato. Plus a handful of raspberries.
· 5tbsp bran flakes with 1tbsp sultanas, 3 dried apricots and skimmed milk.
· 2 slices wholemeal bread filled with 2 grilled rashers lean back bacon, 1 tomato, lettuce and 1tsp reduced-fat mayo.
· 3tbsp unsweetened muesli with ½ pot low-fat natural yoghurt. Plus a small glass orange juice.
· Homemade porridge made from 4tbsp porridge oats with 275ml water and skimmed milk, with 3 dried apricots and 1tsp honey.
Lunches Ideas: choose any one (350 calories)
· One whole meal pitta with 3tbsp reduced-fat Cheddar and salad. Fruit and fat-free yoghurt.
· Bowl of vegetable soup with wholegrain cheese toastie. Use 4tbsp grated reduced-fat cheese.
· Rice and bean salad made from 6tbsp cooked brown rice, 4tbsp kidney beans, ½ small red onion, a handful of mange tout, baby sweetcorn, French beans, cherry tomatoes and 1tbsp fat-free dressing.
· Plus 1 satsuma. Homemade guacamole made from ½ small avocado, 2 chopped tomatoes, crushed garlic, lemon juice and chilli sauce to taste. Serve with 1 wholemeal pitta bread and carrot sticks. Plus 1 orange.
· Rice and prawn salad made from 7tbsp cooked brown rice, 1 small pack of prawns, 5 cherry tomatoes, a handful of watercress and fat-free dressing. Plus 1 kiwi fruit.
Dinners Ideas: choose any one (450 calories)
· Prawn and veg stir-fry with reduced-salt soy sauce, plus 6tbsp brown rice.
· Chicken, broccoli and pasta pesto made from 1 grilled skinless cooked chicken breast, 6tbsp cooked wholewheat pasta, lightly steamed broccoli and 1tbsp red pesto sauce, with salad.
· Oven-baked salmon and roasted veg.
· Three thin slices of lean roast beef with two medium-sized roast potatoes, one Yorkshire pudding, vegetables, fat-free gravy and 1tsp horseradish sauce.
· Stir-fried pork and noodles made from 1tsp sunflower oil, 100g lean pork strips, fresh ginger and chilli to taste, 2 spring onions, shredded white cabbage, 1tbsp soy sauce and 1 layer of noodles. Plus 1 pot fat-free fruit yoghurt.
· Sweetcorn and broccoli pasta made from 7tbsp cooked wholewheat pasta, 3tbsp sweetcorn, lightly-steamed broccoli and 1tbsp red pesto, served with 1tbsp Parmesan cheese and salad.
Snacks/treats Ideas: choose any one (100-150 calories)
· One slice wholegrain toast with 1tsp low-fat spread and one sliced tomato.
· One small banana and one satsuma.
· 4tbsp branflakes with 3 dried dates, 1tbsp sultanas and skimmed milk.
· 1 wholemeal fruit scone with 1tsp low-fat spread and 1 small banana.