5 Instagram Worthy Holidays in Africa worth Photographing
Let's face it, in this day and age; we are all photographers. Whether we are professionals or not, we have constantly got our tools on standby, waiting to snap the next best shot. Most of the time our photographic masterpieces are never for our private collection – the aim is to share it with everyone on the web! We want to share our travels, our nights out, our new car, our… I fear I might take up the entire post if I proceed. You get the point – we want epic photos, of everything, to share everywhere.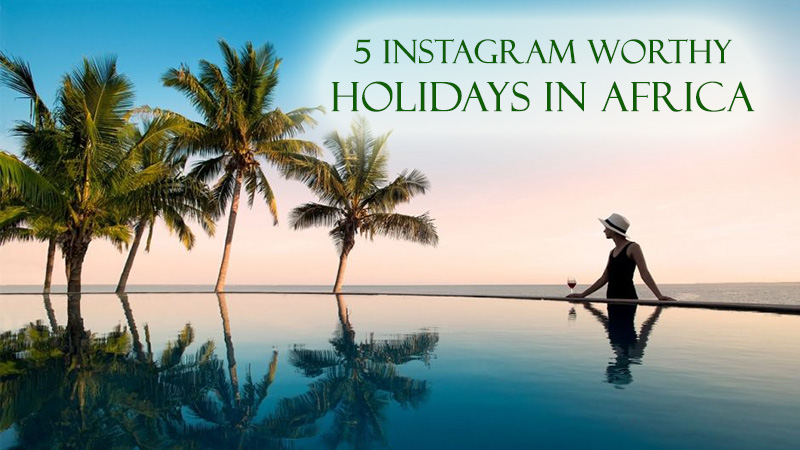 So, it is safe to say the world of photography has become quite a competitive one, especially when every Social Media platform is swamped with new-age photographers posting their works of art on the daily. So of course, we either need to fit in or ship out! Sounds stressful, right?
Well, we have put together a list of the top 5 African safari destinations that take Generation X into full consideration. These lodges go the extra mile to ensure you get plenty of Instagram-worthy shots, through either their epic location, services or even their freely available cameras!
Manor House, Samara Private Game Reserve, Eastern Cape
The Manor is unique in its warm design which reflects the local landscape and traditions whilst retaining a lovely light twist. The style of the Manor is the inspiration of well-known South African designer, John Zwiegelaar of John Jacob Interiors. Relax in four spacious luxury air-conditioned suites. Beds are made up with the softest linen that lulls you to sleep and all suites have large ensuite bathrooms with separate showers and free-standing baths. Experiences include bush dining experiences, tracking cheetahs on foot, and wild game hunts.  If you don't become Insta-famous after this then shoot me – no pun intended!
Mhondoro Game Lodge, Welgevonden Game Reserve, Limpopo
If rugged rock formations, lush green landscapes, magical valleys and more than 2000 different plant species sounds like the perfect location for a shoot of the big five – then Welgevonden Game Reserve is for you.
Nestled in the heart of the reserve is Mhondoro Game Lodge, which seems to be attracting the photo-fundis in a big way, with its exceptionally useful hide situated at a waterhole which gets you up close and personal with the wildlife that comes to freshen up. No excuses for being too far from the action!
Located on the banks of the Vaal River, this resort offers elegant rooms with air conditioning. It features an outdoor pool and an 18-hole golf course with an exclusive club house.The hotel offers fantastic facilities, including fitness centre, golf course (on site), golf course (within 3 km), outdoor pool, skiing, to help you unwind after an action-packed day in the city. Enjoy unparalleled services and a truly prestigious address at the Bon Hotel Riviera On Vaal. This is the perfect modern wilderness for any young photographer!
Camp Shemu, Kruger National Park
The Kruger National Park is one of Africa's wildlife gems. It is world-renown, and the photos that come out of there are too beautiful to even describe in words. Home to the big 5, rare wildlife species and a plethora of plant species, it is every photographer's dream destination.
Away from the hustle and bustle of the public tourist spots, rests the private Camp Shemu lodge which offers the sought-after photographic safari. It is located a stone's throw away from the parks' watering hole and attracts a strong pride of lions, elephant and buffalo. Who knows, maybe you'll turn this into a "staycation".
The Posthouse, Greyton
The peaceful little hamlet of Greyton lies surrounded by the Riviersonderend (river without end) mountains and farmlands some 90 minutes from Cape Town. Greyton is fast earning the reputation as a perfect weekend getaway waiting to be captured – on film! This photographic destination offers luxuriously furnished pieces and a restaurant to boot. The Posthouse has even built an overnight sleepout, kitted with all the bells and whistles for one that would be spending the night snapping away. So yes, coffee machines. Oh, and even a bed if you are desperate for some shut-eye!
So, there you have it! The top 5 African destination's that take the stress out of snapping!
Honestly, I do not think those photos are going to need any filters after this!