A Bangkok Holiday With Kids in Tow: 5 Things to Do
You fancy a Bangkok holiday, but don't really fancy taking the kiddies along. Will there even be anything for them to do? Of course there will be! It's possible to visit Bangkok with kids in tow and have a wholesome family holiday! First up, check out our list for Family-friendly hotels in Bangkok. Now that you are all set with a Bangkok hotel and have your flight booked, it is now time to plan exactly what you would like to do while on your vacation. Whether it be going to museums, the zoo or a short tour around the city, there is something for everyone.  Let's take a look at some of the best things to do while in Bangkok:
Madame Tussauds Bangkok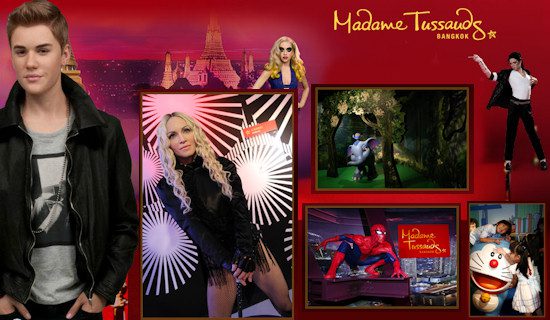 Madame Tussauds Bangkok opened in 2010 and now has more than 70 wax figures of celebrities, world leaders, artists and scientists. The wax figures in Madame Tussauds Bangkok are hand-crafted by British artisans who can take up to six months to complete one figure.
You may think a wax museum would bore the kids, but Madame Tussauds Bangkok does what most museums don't — it lets you touch the exhibits. Kids can take a piano lesson from Beethoven, paint with Picasso or tousle Einstein's hair. Notable exhibits include President and First Lady Obama, Chairman Mao Zedong, the Dalai Lamaand Princess Diana.
For more details and bookings, visit http://www.madametussauds.com/bangkok/en/default.aspx
Bangkok Snake Farm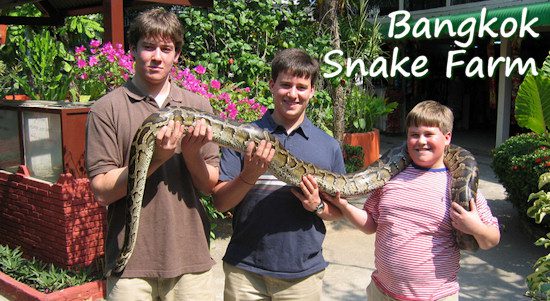 Get a new perspective on snakes at the Bangkok Snake Farm, located at the Thai Red Cross Institute near Chulalongkorn Hospital and University in the town center. Come at 14:30 Monday to Friday or 11:00 on weekends and holidays to view the impressive Snake Handling Demonstration, which takes place in the auditorium.
Throughout the demonstration, professional handlers will bring out and show off an impressive number of serpents, including the king cobra, the green tree snake, the rainbow snake, the radiated rat snake and the banded krait. Handlers explain each snake's habits and life cycle while shedding insight as to how each one deserves either our gratitude for the benefits it provides or our fear for the danger it presents. Later in the performance, you'll be allowed to hold an albino boa constrictor.
Dusit Zoo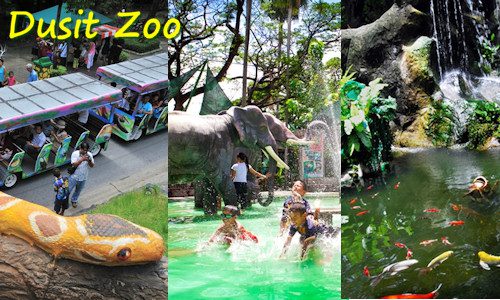 Known as "Khao Din" in Thai, the Dusit Zoo is Thailand's oldest zoo. It is home to 1,600 species from around the globe. White Bengal tigers, albino barking deer, giraffes, ostriches, hippopotamuses, lions, kangaroos, wallabies and camels are some of the creatures you'll find here. Spend a whole day exploring exhibits such as the African savanna, the reptile house, the hawks exhibit, pheasants aviary and the Dusit Zoo's theme park, Play Land. Have lunch at the canteen in the Food Center or picnic in the gardens.
The official website of the Dusit Zoo is in Thai, but you can read it using Google Translate tool. http://www.dusitzoo.org
Rattanakosin Exhibition Hall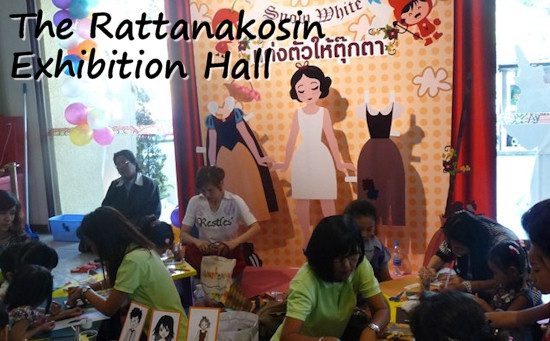 Fancy a stroll through Thai history? The Rattanakosin Exhibition Hall is one of Thailand's newest museums. Its interactive exhibits will take you on a tour of the Rattanakosin Period, Thailand's fourth kingdom, which began in 1732 and continued through 1932.
Seven rooms on three floors of this structure, which itself dates back to the late 19th century, contain interactive touchscreen and multimedia displays focus on the history of the Thai royal family and their majestic palaces. Many of the exhibits consist of panoramic, 360-degree presentations. After the museum, enjoy stunning views from True Coffee, the rooftop coffeehouse. You can also enjoy more substantial fare at the downstairs restaurant, Coffee Beans.
For more information, visit http://www.nitasrattanakosin.com.
Take a Tuk-Tuk Ride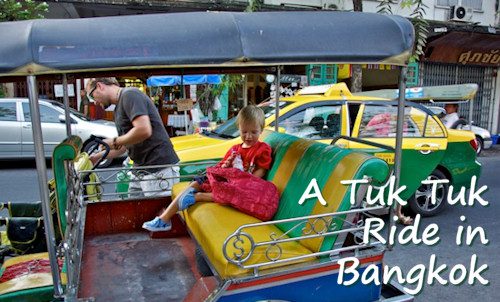 Tuk-tuks, known as "samlor" in Thai, are the three-wheeled, motorized rickshaws abundant on Bangkok's streets. Before you give it a go, here are some tips:
Negotiate your fare before you board the tuk-tuk. A short jaunt should cost 30 baht. The driver will inflate the fare by five to 15 baht, so expect to haggle.
Avoid the tuk-tuks that congregate near tourist attractions. These dodgy drivers will take you on an unexpectedly long trip and charge an exorbitantly high fare.
Take your tuk-tuk ride during off-peak hours so you don't get stuck in traffic. Peak hours in Bangkok are from 7:00 to 9:00 and 16:00 to 19:00 in the evening.
Keep your tuk-tuk ride short. If your destination is far, a cab will be the cheaper and faster option.
Tuk-tuk rides are fun, but they're not the most efficient means of transportation. Riding in a tuk-tuk is part of the Bangkok experience, like riding in a gondola is part of the Venetian experience.
Bangkok offers plenty of family fun opportunities. If you are on a visit for a longer duration, check out more things to do with kids in Bangkok and Day trips you can take from Bangkok. Don't shy away from visiting Bangkok with your kids in tow! A holiday in Bangkok can be loads of fun for the whole family when you plan activities everyone can enjoy.
About the Author: Contributing blogger Abhilasha Gadhavi doesn't believe you have to give up travelling because you've got kids! She takes frequent holidays abroad with her husband and children.