3 Things to do on Your UK Trip in 2017
There is never really a dearth of things to do on a trip to the United Kingdom. The UK is an event-rich destination throughout the year, any year. But if 2017 is your chosen year for a trip to the royal country, you are in for a treat. From Sports to Literature, the year 2017 is a special year for travel. We share today three special things to do on your UK trip in 2017.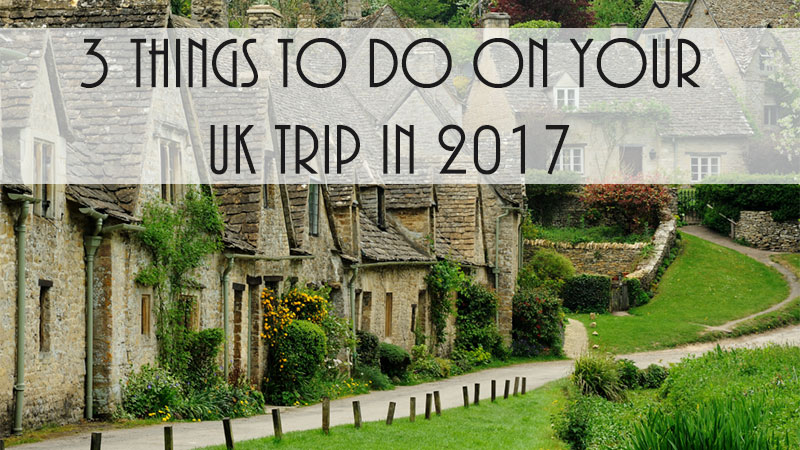 Attend a Literary Event
2017 has been officially declared the 'Year of Literary Heroes'. It will be an opportunity to commemorate the 20th anniversary of the first Harry Potter book, the 200th anniversary of Jane Austen, the 75th anniversary of Enid Blyton's Famous Five and the 125th anniversary of the first publication of the adventures of Sherlock Holmes among many others. A host of events have been planned throughout the country and you can choose your pick from a Regency Week in Jane Austen's Chawton to 'Five Go To A Garden Adventure' themed family activities in beautiful British gardens!
Visit the Most Famous Horse Race
In England, horse racing is often called "The sport of kings". The Queen of England herself is a great fan of horse racing and has her own racing horses. If you have to choose one race to attend, make it the most popular one – The Grand National, reputed to be the most difficult in the world, held in April. You will all information online, from purchasing tickets to finding out details like What's the first race at Grand National Opening Day?
Soak in British Culture at Hull – all year in 2017
Hull in Yorkshire, has been chosen as the UK's cultural capital for 2017. It will host, among many other things, the prestigious Turner Prize at the Ferens Art Gallery. This award is an annual award, awarded to a contemporary artist under the age of 50 and based on public votes. It has been organized by the London Tate Britain since 1984.
Each season in Hull has a theme this year, so you will have plenty to savor, no matter what time of the year you plan your visit:
– "Made in Hull" from January to March 2017
– "Roots and Routes" from April to June 2017
– "Freedom" from July to September 2017
– "Tell the World" from October to December 2017
Beyond London
More often than not, our UK trip plans equal to London travel plans. While there is no doubt that London is obviously a must, the real British culture lies outside of London – in the heart of England. You might not plan a trip to any other place in UK just for the sake of it, but the events and festivals in 2017 will give you the perfect excuse to explore beyond London. Whether in Kent, Dorset, Somerset, Devon or Cornwall, the Cotswolds region, the Yorkshire Moors or the Lake district, find an event and head to a village to discover the real England.