10 Tips to Keep in Mind When Travelling Abroad with Kids
Travelling with kids can be a stressful event, especially so when you are travelling abroad. There are many things to keep in mind, but the following ten tips should ensure everything goes smoothly and you can enjoy offering these unique experiences to your kids.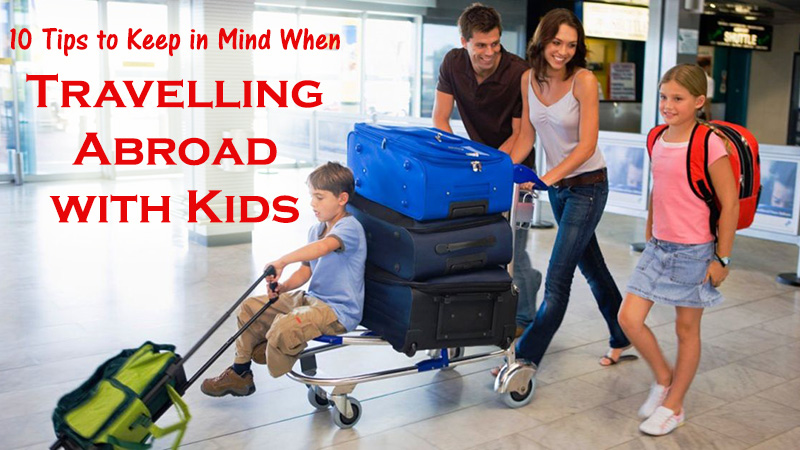 1. Check the validity of your passports
Plenty of travellers make the mistake of thinking the passport only needs to last exactly the time of travel, but many authorities demand the expiry date to be a few weeks past the last day of your travel. You might not even be able to board the plane if the passport is not valid for three months after the day you arrive home.
2. Copies of important documents
Don't just pack the original documents, but take copies and keep them in separate bags. You want to have a copy of the passports, possible visas, birth certificates for the kids, and copies of any medical documents you require. This makes solving problems hassle-free.
3. Divide responsibilities
When you're travelling with another adult, divide responsibilities to avoid confusion. For example, have one person in charge of dealing with the hotel and one person keeping an eye on the kids. This removes the hassle from going to places and ensures you don't end up doing the same thing.
4. Keep the kids rested
Organise travel times so that your kids get plenty of sleep. The hungrier and sleepy the kids are, the crankier they will get. Have snacks handy with you but avoid sugary treats during travel. Get a travel chair or a strong luggage to ensure the kids have somewhere to sit even when you are out. Having a pram or a buggy, even when your child is older, can be a smart idea, as you might find your child getting tired from the walking. You can find great travel accessories for your kids at discounted rates from OZCodes.com.au.
5. Teach the kids to find you
You need to ensure your child knows what to do in case he or she gets lost and can't find you. First, in each new place (restaurant, hotel, amusement park), pick a meeting point where the child should go if he or she is separated from you. This could be near the entrance or in another easy to find spot. Have a phone number written on their hand or a piece of paper, with your contact details in their pocket and tell them to show it to an adult. You can even consider a child monitor, which can make finding your children easier.
6. Book a car
Using public transport won't be impossible with kids, but renting your own car might give you more freedom and peace of mind. Avis regularly runs saving schemes to ensure renting a car won't cost a fortune. Don't forget to ask for a children's car seat if you are travelling with young kids.
7. Plan your days
With the kids, you need to be flexible when it comes to planning activities. But flexibility doesn't mean you shouldn't have a plan! Things go much smoother if you have options in mind for each day and you can take charge of the chaotic morning by getting people ready. Always have plans for different weather conditions as well!
8. Prepare for illness and injury
Have a small first aid kit with you to ensure you can fix minor injuries in an instant. You can find them from Survival First Aid Kits. In addition, have regular pain medication and over the counter anti-histamine to cure minor allergies. Before your trip, check the closest pharmacy and hospital, writing down the details.
9. Keep the foods simple
You might be interested in trying out the local culinary treats, but your children might not always be as excited. While you want them to try new things, always have something simple to offer as well. Find local grocery stores and pick simple items such as instant porridge, bread, crisps, and grilled chicken to ensure your child is eating enough.
10. Get the kids involved in making memories
Finally, you should ensure your kids are actively creating memories of the trip! Buy them a notebook and pack a few disposable cameras they can freely use. They can write or draw stories into the notebook and leave spaces for adding photos once you've returned home.
With children, the key to travelling abroad is all about planning and staying patient. Always leave with a Plan B and stay calm even if things don't go as planned.