Witch Candy Holder – Halloween Crafts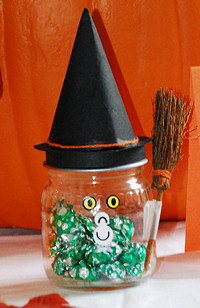 What you need:
baby food jar
sheet of black construction paper
scissors
hot or tacky glue
eyes sticker sheet
miniature broom
orange embroidery floss
Directions:
1. For hat ,use jar lid to trace a circle on black construction paper and cut it out. Glue to the lid.
2. Now cut a semi-circle and form a cone out of it. Glue orange embroidery floss at the base of the cone. Use a glue stick or a tube to first create a circle of glue all the way round and then glue on the floss over the glue.
3. Use a glue tube to pie out glue on the edge of the cone and glue the cone to the black circle on the lid. Set aside to dry.
4. Use different 'eyes' from an eye sticker sheet to make the eyes, nose and mouth of the witch on the jar.
5.Tape a miniature broom to the side of the jar.
6. When the hat is completely dry, fill the jar with candy and place the lid hat.