Valentine Heart Pocket Apron – Homemade Valentine's Day Gift Idea for Women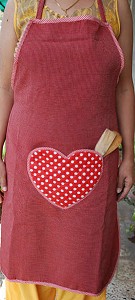 Some basic sewing is all you will need to complete this project perfect for Valentine's Day.
Materials Needed:
1 Apron Contrasting Fabric for bias binding and patch pocket
Directions:
1. Cut a heart shape on 2 pieces of the contrasting fabric.
2. Place a sheet of wading between the material and quilt it.
3. Secure the edges with a bias binding.
4. Sew the pocket on to the apron leaving enough open at the top the hand to go in.