Three Leaf Clover Treat – St. Patrick's Day Crafts
This project is perfect as a treat for a class party.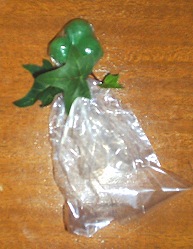 What you will need:
1. Round green lollipops 2. Fake green leaves 3. Plastic sandwich bags 4. Twist ties 5. Hot glue gun
Directions:
1. Plug in the hot glue gun.
2. Unwrap the lollipops.
3. Group the lollipops together so that they look like a three leaf clover.
4. Put the plastic bag over the lollipops and use the twist tie to secure the lollipops and the bag.
5. Glue a few leaves around the base of the lollipops.